Abstract
Splicing of eukaryotic precursor messenger RNAs (pre-mRNAs) excises the intron from the precursor and ligates the two exons together to produce the mature mRNA. It occurs via a two-step mechanism (
Fig. 1
) (reviewed in
ref.
1
). In the first step the 2′ hydroxyl group of an intronic adenylyl residue initiates a transesterfication reaction at the 5′ splice site. The result is the cleavage of the 5′ splice site phosphodiester bond and the formation of a new, 2′–5′ phosphodiester bond between the adenylyl residue and the 5′ end of the intron. Because the intronic adenylyl residue has both 2′–5′ and 3′–5′ phosphodiester bonds, it is commonly referred to as the branch point nucleotide. The first splicing step yields two intermediates, "free" exon 1 and the lariat intermediate, which are not covalently linked together. In the second step, the 3′ hydroxyl of the "free" exon 1 initiates a second transesterification reaction at the 3′ splice site, resulting in the ligation of the two exons together to form the mRNA and the release of the lariat intron.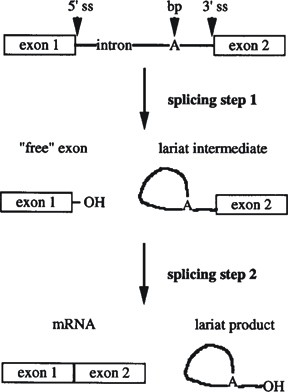 Keywords
Sterile Water 
Xylene Cyanol 
Back Plate 
Splice Reaction 
Sodium Acetate Trihydrate 
These keywords were added by machine and not by the authors. This process is experimental and the keywords may be updated as the learning algorithm improves.