Detection of Hypermodified Middle-Envelope (M) Proteins Secreted from Naturally Occurring HBV Variants Containing a preS2 Internal Deletion
Part of the Methods in Molecular Medicine book series (MIMM, volume 95)
Abstract
Human hepatitis B virus (HBV) produces three structurally related envelope proteins (also called surface antigens) from a single open reading frame (ORF) (
Fig. 1
). This ORF contains three in-frame translational initiation AUG codons, dividing it into three regions: preS1, preS2, and S (
1
,
2
). The three envelope proteins are referred to in the literature as large (L) (p39/gp42), middle (M) (gp33/gp36), and small (S, major surface antigen) (p24/gp27) envelope proteins. These proteins are co-carboxy-terminal proteins with different amino terminal extensions.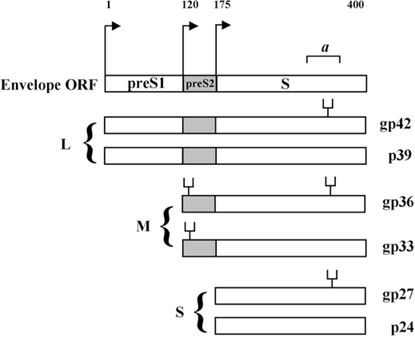 Keywords
Envelope Protein 
Human Hepatoma Cell Line 
preS2 Region 
Major Surface Antigen 
Middle Envelope 
These keywords were added by machine and not by the authors. This process is experimental and the keywords may be updated as the learning algorithm improves.