Abstract
Fat-soluble vitamins and antioxidants (FSVAs) are a structurally diverse group of compounds (
Fig. 1
) that play important roles in a wide spectrum of biochemical and physiological processes, e.g., photoreception (vitamin A, retinol); plasma calcium homeostasis (vitamin D2, ergocalciferol; vitamin D3, cholecalciferol); and blood clotting (vitamin K1, phylloquinone). Of considerable interest is the involvement of some FSVAs in oxidative metabolism and the prevention of damage by reactive oxygen species (ROS) (
1
,
2
). For example, α-tocopherol (vitamin E) is the primary antioxidant species in the membrane. Here it intercepts lipid peroxyl radicals, thereby inhibiting lipid peroxidation, a self-perpetuating chain reaction, and preventing catastrophic membrane damage. α-Tocopherol is thought to be regenerated from the resulting α-tocopheryl radical by reaction with reduced coenzyme Q10 (CoQ10) (the ubiquinone/ubiquinol system) also located within the membrane, or with cytosolic ascorbic acid (or glutathione) at the cytoplasm-membrane interface (
1
,
2
). Another form of vitamin E, γ-tocopherol, readily reacts with reactive nitrogen species (RNS) such as peroxynitrite to form 5-nitro-γ-tocopherol, a marker of RNS production (
3
).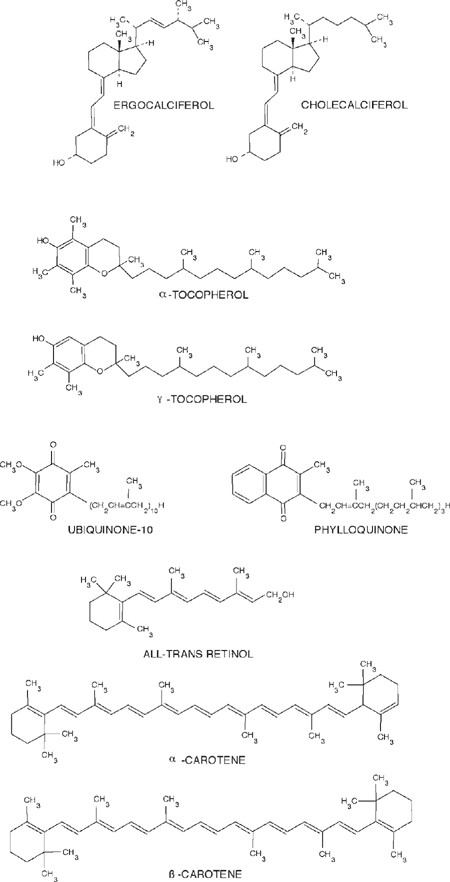 Keywords
Milk Sample 
Reactive Nitrogen Species 
Global Method 
Sodium Perchlorate 
Gradient Profile 
These keywords were added by machine and not by the authors. This process is experimental and the keywords may be updated as the learning algorithm improves.
Copyright information
© Humana Press Inc.,Totowa, NJ 2003