Abstract
Analytical methodologies used to study protein nitration products in biological matrices have evolved over the last few years. Consequently, instrumental methods for measuring nitrated proteins and amino acids have been applied to a wide variety of sample matrices, including cerebral microvessels (
1
), cell culture (
2
), brain tissue/serum matrices (
3
,
4
,
5
,
6
,
7
), atherosclerotic tissue (
8
), and Alzheimer's diseased tissue (
3
,
9
). The most commonly measured compounds of interest are 3-NO
2
-Tyr (3-nitrotyrosine), as well as the tyrosine congeners such as those depicted in
Fig. 1
. High-performance liquid chromatography coupled with electrochemical detection (HPLC-ECD) is an extremely versatile and reliable chromatographic technique employed to facilitate selectivity and reproducibility of, and to accurately measure, tyrosine homologs. This bioanalytical assay enables the user to generate chromatograms based on its electrochemical rather than optical properties. The principles and methodologies of HPLC-ECD have been previously discussed (
1
,
11
). The primary focus of this chapter is to discuss the bioanalytical methodologies and techniques used to analyze 3-NO
2
-Tyr and its tyrosine variants in human plasma samples using direct HPLC-ECD. Other available bioanalytical methods used in the isolation, characterization, and quantitation of 3-NO
2
-Tyr, and are discussed in greater detail by Herce-Pagliai et al. (
10
) and also by Hensley et al. (
11
).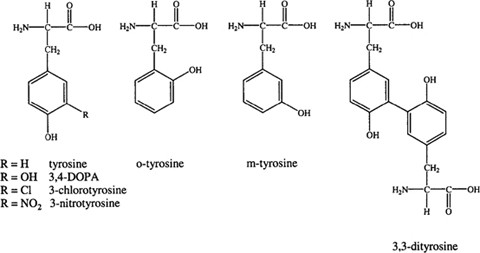 Keywords
Bioanalytical Method 
Human Plasma Sample 
Nitration Product 
Cerebral Microvessels 
Atherosclerotic Tissue 
These keywords were added by machine and not by the authors. This process is experimental and the keywords may be updated as the learning algorithm improves.
Copyright information
© Humana Press Inc.,Totowa, NJ 2003