Abstract
Oxidative stress has been increasingly implicated in the pathogenesis of a wide variety of diverse human diseases. Free radical damage to lipids, proteins, and DNA may all contribute to the pathogenesis of disease. We have recently discovered a series of highly reactive γ-ketoaldehydes that are formed by rearrangement of bicyclic endperoxide intermediates in the isoprostane (IsoP) pathway of free radical-mediated peroxidation of arachidonic acid (
1
), which we now term isoketals (IsoKs) (
2
) (
Fig. 1
). IsoKs rapidly react with the ε-amine of lysyl residues on proteins to form Schiff base, lactam, and hydroxylactam adducts (
1
,
3
,
4
) (
Fig. 2
). The rapidity with which IsoKs adduct to proteins exceeds that of other known reactive products of lipid peroxidation, e.g., 4-hydroxynonenal, by orders of magnitude (
1
). Adduction of proteins frequently leads to altered protein function (
5
,
6
,
7
,
8
). This in turn can lead to cellular dysfunction, which may be causally linked to the pathogenesis of disease processes.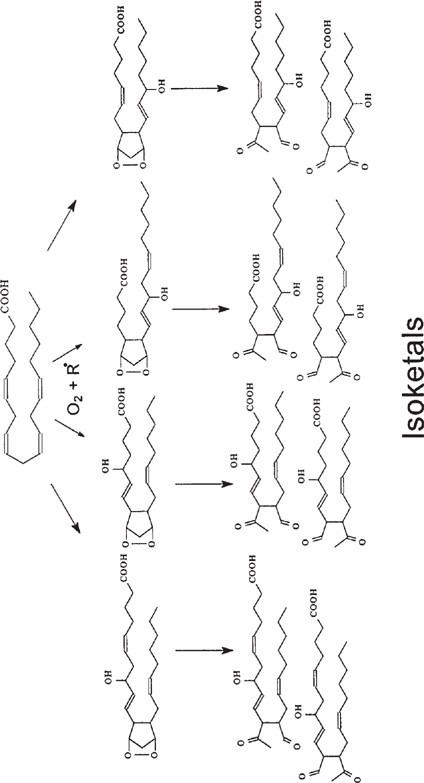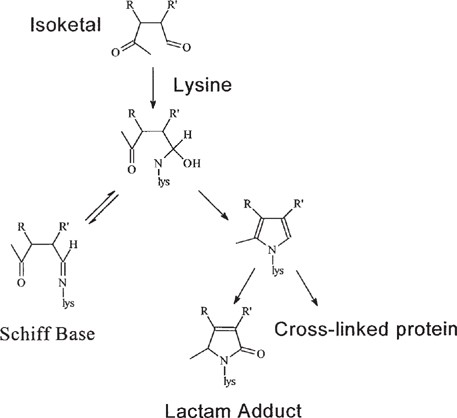 Keywords
Schiff Base 
Potassium Hydroxide Solution 
Form Schiff Base 
Resuspend Pellet 
Butylate Hydroxyl Toluene 
These keywords were added by machine and not by the authors. This process is experimental and the keywords may be updated as the learning algorithm improves.
Copyright information
© Humana Press Inc.,Totowa, NJ 2003