Abstract
During evolutionary processes, the development of aerobic metabolism has led to the liberation of reactive oxygen species (ROS) in living creatures by leakage from terminal oxidation and other enzymatic processes even under physiological conditions. Free radicals have unpaired electrons on their outer orbit, which makes these short-lived molecular fragments highly reactive with biomolecules, such as lipids, proteins, nucleic acids, and carbohydrates. These reactions are self-perpetuating chain reactions, further increasing their destructive potential. Excessive amounts of free radicals can significantly impair cellular structure and function and even can induce different forms of cell death. The development of inheritable adaptation mechanisms against oxidative stress improved the survival of the individual and the species in general as a benefit of selection (
1
,
2
). The comprehensive role of ROS in intracellular signaling mechanisms during physiological circumstances has later been recognized (
3
). The formation, actions and inactivation of free radicals are summarized in
Fig. 1
.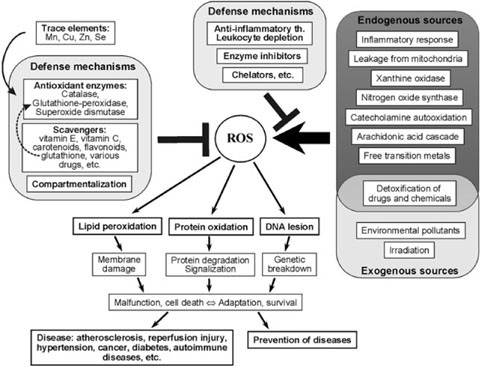 Keywords
Reactive Oxygen Species 
Nitric Oxide 
Reperfusion Injury 
Heart Outcome Prevention Evaluation 
Prevent Lipid Peroxidation 
These keywords were added by machine and not by the authors. This process is experimental and the keywords may be updated as the learning algorithm improves.
Copyright information
© Humana Press Inc., Totowa, NJ 2003