Screening Peptide/Protein Libraries Fused to the λ Repressor DNA-Binding Domain in E. coli Cells
Part of the Methods in Molecular Biology™ book series (MIMB, volume 205)
Abstract
The use of λ repressor fusions to study protein-protein interactions in
E. coli
was first described by Hu and others (
1
). Since then, the repressor system has been employed by several laboratories to screen genomic (
2
,
3
,
4
,
5
) and cDNA libraries (
6
) for homotypic or heterotypic interactions. λ repressor consists of distinct and separable domains: the N-terminal domain which has DNA binding activity and the C-terminal domain which mediates dimerization. The repressor fusion system is based on reconstituting the activity of the repressor by replacing the C-terminal domain with aheterologous oligomerization domain. The interaction is detected when the C-terminal domain forms a dimer (or higher order oligomer) with itself (homotypic interaction) or with a different domain from other fusion (heterotypic interaction) (
see
Fig. 1
).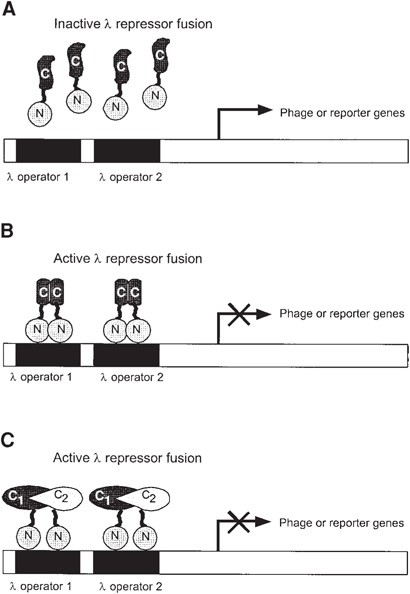 Keywords
Chloramphenicol Acetyl Transferase 
Green Fluorescent Protein Reporter 
Nonsense Suppression 
High Order Oligomer 
Amber Mutation 
These keywords were added by machine and not by the authors. This process is experimental and the keywords may be updated as the learning algorithm improves.