Abstract
The biologically active vasoconstrictor peptide endothelin (ET-1) is produced from its inactive precursor big endothelin (big ET-1) in a process catalyzed by an endothelin-converting enzyme (ECE). Two potential human endothelin-converting enzymes, ECE-1 and ECE-2, have been cloned (
1
,
2
,
3
) and a third ECE activity, designated ECE-3, has been described in bovine iris (
4
). ECE-1 is a member of the M13 family of zinc metalloproteases that includes the well-characterized neprilysin, or NEP, to which ECE-1 has 37% identity (
5
). Like NEP, ECE-1 is a type II integral membrane protein with a short N-terminal cytoplasmic region, a single transmembrane domain and a large C-terminal region containing the active site, the zinc-binding domain and a number of potential glycosylation sites (
Fig. 1
). Significant differences exist between NEP and ECE-1. ECE-1 is a disulfide-linked dimer whereas NEP is a monomer, and they also exhibit different inhibitor profiles. The zinc metallopeptidase inhibitors phosphoramidon and thiorphan both inhibit NEP at nanomolar concentrations whereas micromolar levels of phosphoramidon are required to inhibit ECE-1, which is also relatively insensitive to thiorphan (I
50
> 200 μM). There are also marked differences in substrate specificity, NEP having a much broader profile of substrates. ECE-1 cleaves big ET-1 and big ET-2 at the Trp
21
-Val
22
bond and big ET-3 at the Trp
21
-Ile
22
to produce ET- 1, -2 and -3 respectively (
Fig. 2
). Originally thought to be specific for these big ET substrates, it has since been shown that ECE-1 efficiently cleaves some other substrates including bradykinin and substance P, and even hydrolyzes insulin B chain at multiple sites (
6
,
7
). ECE-1 is expressed predominantly in endothelial cells but it has also been shown to be expressed in smooth muscle cells and neurones and glia in the brain (
8
). The subcellular localization of the enzyme has been the subject of much debate, with both intracellular and cell surface localization being reported, and is further complicated by the presence of four known isoforms of ECE-1, designated ECE-1a, -1b, -1c and -1d in the human, produced from distinct promoters within the same gene (
9
,
10
). These isoforms are identical in their C-terminal and transmembrane domains but differ significantly in their N-terminal domains (
see
Table 1
). Potential tyrosine and dileucine based localization sequences in these short regions have been suggested to be responsible for different subcellular localizations of the isoforms (
11
,
12
,
13
,
14
).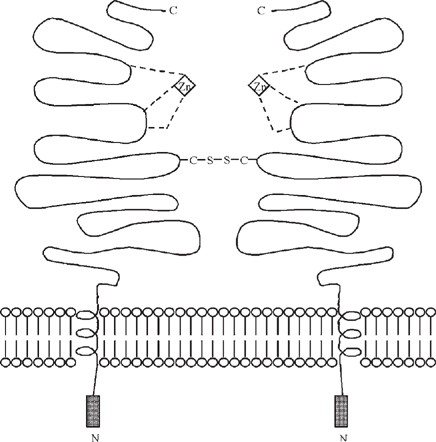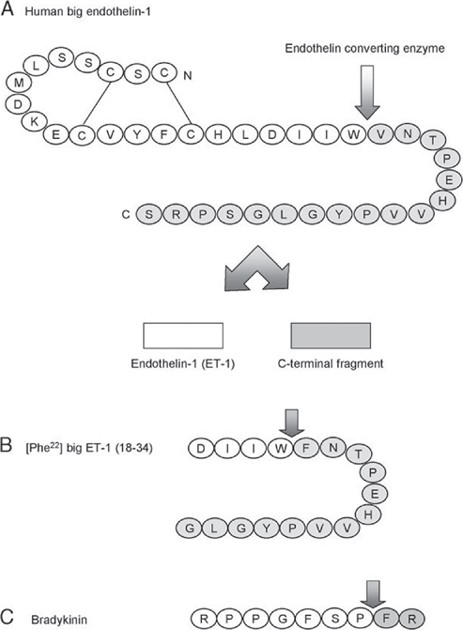 Table 1
Summary of the Characteristics of the Human ECE-1 Isoforms
| ECE-1 Isoform | Number of residues | N-terminal sequence | Localization | Reference |
| --- | --- | --- | --- | --- |
| a(β) | 758 | MPLQGLGLQRNPFLQGKR GPGLTSSPPLLPPSLQ- | Predominantly plasma membrane | Shimada et al. (2) |
| b | 770 | MRGVWPPPVSALLSALGM STYKRATLDEEDLVDSLS EGDAYPNGLQ- | Exclusively intracellular | Schweizer et al.(9) |
| c(α) | 754 | MMSTYKRATLDEEDLVDS LSEGDAYPNGLQ- | Plasma membrane and intracellular | Schmidt et al.(1) |
| d | 767 | MEALRESVLHLALQMTYK RATLDEEDLVDSLSEGDA YPMGLQ- | Intermediate between a and c | Valdenaire et al.(10) |
Keywords
Booster Injection 
Phenylhydrazine Hydrochloride 
Bovine Pulmonary Artery Smooth Muscle 
DTNB Assay 
Bovine Iris 
These keywords were added by machine and not by the authors. This process is experimental and the keywords may be updated as the learning algorithm improves.