Immunocytochemical Localization of Endothelin Peptides, Precursors, and Endothelin-Converting Enzymes
Part of the Methods in Molecular Biology™ book series (MIMB, volume 206)
Abstract
This chapter will describe the protocol used for the immunocytochemical (ICC) visualization of endothelin (ET) peptides, precursors and endothelin converting enzymes (ECEs) in both frozen cryostat tissue sections and cultured cells using polyclonal primary antisera raised in rabbits. We have raised antisera against the ET-1 carboxy-terminal heptapeptide, ET-1
(15–21)
, which is conserved in all three ET isoforms, (thus, the antibody does not distinguish between the three mature peptides); big ET-1
(31–38)
, big ET-2
(31–37)
and big ET-3
(31–42)
(
1
), the ECE-1 isoforms (
2
,
3
) and ECE-2 (
4
) (
see
Fig. 1
). The specificity of these antisera have been characterized using radioimmunoassays (RIA, [
5
],
see
Chapter 2
), enzyme-linked immunosorbant assays (ELISA,
see
Chapter 2
) and in a comprehensive range of human and animal tissues using ICC, including comparisons with commercially available antibodies, although in most cases the staining achieved with these was less intense (
1
,
6
).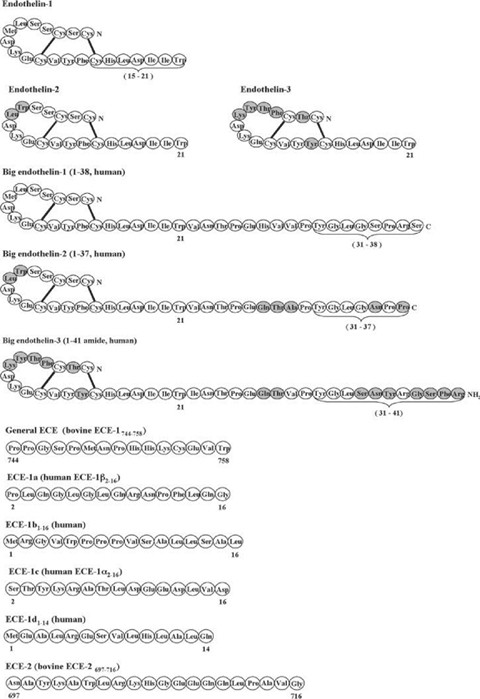 Keywords
Mature Peptide 
Nonspecific Background Staining 
Brown Reaction Product 
Alcohol Bath 
Excess Buffer 
These keywords were added by machine and not by the authors. This process is experimental and the keywords may be updated as the learning algorithm improves.