Abstract
Mitochondrial DNA (mtDNA) replication is a complex process involving over 20 proteins organized along the inner mitochondrial membrane as a multienzyme complex called the mtDNA replisome, or replication factory (
1
,
2
,
3
).
Figure 1
illustrates some of the protein components that participate in mitochondrial DNA replication. A principal component of the mtDNA replisome is the mtDNA polymerase γ. This enzyme is found as an αβ heterodimer and as an α monomer associated with at least four other unidentified cellular proteins (
4
). Both α- and β-subunits have been cloned (
5
,
6
,
7
). The α-subunit is catalytic and contains both the polymerase and the 3′ to 5′ proofreading exonuclease activities. It is 140,000 Daltons in size.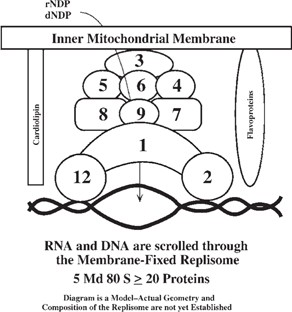 Keywords
Mitochondrial Protein 
Skeletal Muscle Mitochondrion 
Mitochondrial Matrix Protein 
Alpers Syndrome 
Suspected Mitochondrial Disease 
These keywords were added by machine and not by the authors. This process is experimental and the keywords may be updated as the learning algorithm improves.