Abstract
Telomeres are repeating sequences located at each end of eukaryotic chromosomes. These sequences function to protect chromosome positioning and replication (
1
,
2
,
3
). In vertebrates, telomere DNA consists of tandem repeats of TTAGGG, 10–15 kb pairs long (
4
). In most normal cells, DNA replication during mitosis results in the loss of telomere sequences 50–100 bp at the 5′ ends of DNA termini (
1
,
5
). This sequence loss is mandated by the end-replication-splicing problem (
Fig. 1
). Thus, telomeres progressively shorten with age in somatic cells in culture and in vivo. In contrast, cancer cells and malignant cell lines retain telomere length despite repeated mitosis (
6
). This is believed to be an essential component of immortalization for most cells.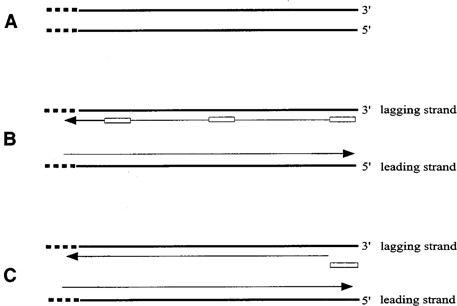 Keywords
Renal Cell Carcinoma 
Telomeric Repeat Amplification Protocol 
Telomeric Repeat Amplification Protocol 
Normal Renal Tissue 
Polymerase Chain Reaction Tube 
These keywords were added by machine and not by the authors. This process is experimental and the keywords may be updated as the learning algorithm improves.
References
Suggested Reading
Kim, N. W., Piatyszek, M. A., Prowse, K. R., Harley, C. B., West, M. D., Ho, P. L. C., Coviello, G. M., Wright, W. E., Weinrich, S. L., and Shay, J. W. (1994) Specific association of human telomerase activity with immortal cells and cancer.

Science 22

, 2011–2015.

CrossRef

Google Scholar

Holt, S. E., Norton, J. C., Wright, W. E., and Shay, J. W. (1996) Comparison of the telomeric repeat amplification protocol (TRAP) to the new TRAP-eze telomerase detection kit.

Methods Cell Sci. 18

, 237–248.

CrossRef

Google Scholar