Detection of Mutations in Human Cancer Using Nonisotopic RNase Cleavage Assay
Part of the Methods in Molecular Medicine book series (MIMM, volume 68)
abstract
Nonisotopic RNase cleavage assay (NIRCA) is an RNase-cleavage-based method for mutation scanning that detects mutations as double-stranded cleavage products in duplex RNA targets. A central requirement for NIRCA is the ability to produce large amounts of double-stranded target RNA by in vitro transcription of PCR products containing opposable T7 phage promoters. The target regions are amplified from genomic DNA or cDNA using forward and reverse primers with T7 promoters added to their 5′ ends. The crude polymerase chain reaction (PCR) products are then converted into double-stranded RNA by in vitro transcription with T7 polymerase, in reactions containing high concentrations of all four ribonucleotide triphosphates. Transcription typically results in a further amplification of the target region of at least 20-fold (
see
Fig. 1
). After transcription, the reactions are heated and cooled to permit dena-turation and hybridization of the complementary strands; mutations in the target region result in base pair mismatches in the duplex RNA, from hybridization of complementary wild-type and mutant transcripts. For heterozygous samples, the endogenous wild-type allele provides the reference strand needed to create the mismatch. For homozygous samples, wild-type and experimental PCR products are mixed before transcription to create the mismatches. After hybridization, the duplex RNA targets are treated with single-strand-specific ribonucleases to cleave mismatches on both strands. The reaction products are separated by electrophoresis on native agarose gels and detected by ethidium staining. Experimental samples are scord positive for mutations if they contain smaller fragments that are not present in a no-mismatch control.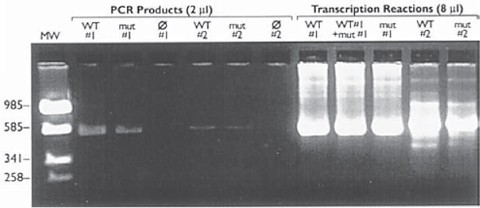 Keywords
Polymerase Chain Reaction Product 
Target Region 
Cleavage Product 
Polymerase Chain Reaction Template 
Polymerase Chain Reaction Step 
These keywords were added by machine and not by the authors. This process is experimental and the keywords may be updated as the learning algorithm improves.