Fluorescent Calcium Antagonists Tools for Imaging of L-Type Calcium Channels in Living Cells
Tools for Imaging of L-Type Calcium Channels in Living Cells
Part of the Methods in Pharmacology and Toxicology book series (MIPT)
Abstract
Different types of voltage-dependent calcium (Ca
2+
) channels (VCCs) in the plasma-membrane control depolarization-induced Ca
2+
entry into cells, thereby serving important physiological functions, including excitationcontraction coupling, neurotransmitter and hormone release, and neuronal plasticity (for review,
see
refs.
1
,
2
,
3
,
4
). Their function is fine-tuned by a variety of modulators, such as enzymes and G-proteins (
5
). In addition the spatial distribution of VCCs over the plasma membrane seems to be of fundamental importance for their contribution to cellular function (
6
). On the molecular level, VCCs are complexes of a pore-forming α1 subunit, an extracellular α2 subunit attached to the membrane by linkage to the transmembrane ° subunit, and a γ subunit, which is a transmembrane glycoprotein (for review,
see
ref.
4
). At the time of this writing 10 genes encoding α1 subunits are known: α1A–α1I, and α1S (
7
,
8
,
9
). Four of these (α1C, α1D, α1F, and α1S) encode L-type calcium channels (LTCCs), which are defined by distinct physiological and pharmacological properties, including activation at strong depolarized voltages, slow inactivation, large single channel conductance, and block by Ca
2+
antagonists (
10
,
11
). A number of chemically unrelated drugs, such as nifedipine (a dihydropyridine, DHP;
Fig. 1A
), verapamil (a phenylalkylamine, PAA;
Fig. 1B
), and diltiazem (a benzothiazepine, BTZ) belong to the group of Ca
2+
antagonists, which are widely used in the therapy of cardiovascular disorders (for review,
see
ref.
12
). LTCCs are expressed in most neuronal cell types, are the primary type in skeletal muscle cells, and are responsible for the inward movement of calcium ions that initiates contraction of cardiac and smooth muscle cells. The functional role of LTCCs in neurons is still under investigation. Several lines of evidence indicate that LTCCs have a crucial role in regulation of gene transcription by activation of the Ca
2+
- and cAMP-dependent transcription factor CREB (
13
).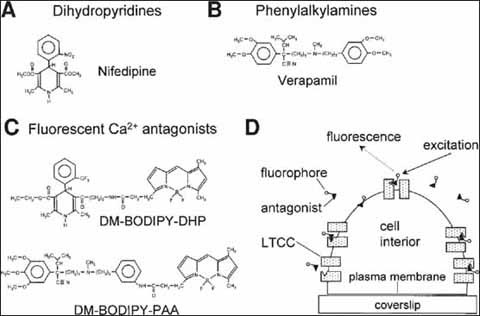 Keywords
BAYK 8644 
Thalamic Neuron 
Neuronal Cell Type 
Ribbon Synapse 
Frog Neuromuscular Junction 
These keywords were added by machine and not by the authors. This process is experimental and the keywords may be updated as the learning algorithm improves.
Copyright information
© Human Press Inc., Totowa, NJ 2001