Abstract
The formation of gap junctions is a multistep process that begins with synthesis in the membrane of the endoplasmic reticulum (ER) of connexins (Cx), members of a highly homologous family of polytopic integral membrane proteins (
see
Fig. 1
,
no. 1
) (
1
). The first stage in gap junction assembly is the noncovalent oligomerization of six connexin monomers into an annular struc ture known as a connexon or hemichannel (
see
Fig. 1
,
no. 2
). In many (
2
,
3
) but apparently not all (
4
) situations, this event takes place after exit from the ER within an intracellular compartment that is most likely the trans-Golgi network. The connexon complex is then transported to the cell surface (
see
Fig. 1
,
no. 3
), where it associates head-to-head with a connexon on the surface of an adjacent cell to form an intercellular channel (
see
Fig. 1
,
no. 4
). Such channels then cluster at up to 10,000/μm
2
to form gap junctional "plaques," the endpoint in gap junction assembly (
see
Fig. 1
,
no. 5
). An emerging concept is that connexon assembly is not simply a spontaneous default process but instead shows a high degree of selectivity, as evidenced by the finding that only certain types of connexins can co-oligomerize to form heteromeric connexons (
5
) and the ability of osteoblastic cells to assemble endogenously expressed Cx43, but not Cx46 (
3
). Determining the mechanism and regulation of connexon formation is therefore a fundamental part of understanding gap junction biosynthesis and function.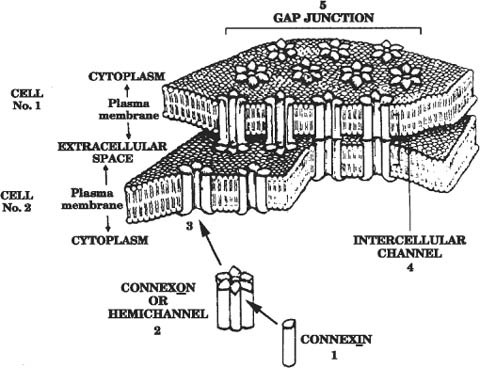 Keywords
Sucrose Gradient 
Incubation Buffer 
Tissue Culture Cell 
Lens Fiber Cell 
Swing Bucket Rotor 
These keywords were added by machine and not by the authors. This process is experimental and the keywords may be updated as the learning algorithm improves.