Abstract
Liquid-liquid partition chromatography (LLPC) is a column chromato-graphic approach of aqueous two-phase partitioning that offers new and unique possibilites to solve separation and fractionation problems (
1
,
2
,
3
, for review,) see
ref.
4
). The bottom phase of the two-phase system is adsorbed onto a support and packed into a column, which is eluted with the corresponding top phase
Fig. 1
). The LLPC method is a rapid (≤ 2 h), sensitive (0.1-100 µg protein is required) analytical method with which even large, flexible, and heterogeneous biomolecules can be analyzed in aqueous solution. The obtained results are highly reproducible (the relative standard deviation of K is <- 5%) and conventional chromatographic equipment available in most laboratories can be used
Fig. 1
).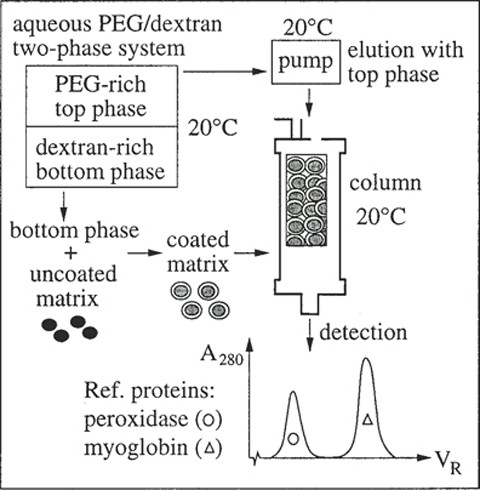 Keywords
Retention Volume 
Reference Protein 
Bottom Phase 
Buffer Composition 
Ideal Partitioning 
These keywords were added by machine and not by the authors. This process is experimental and the keywords may be updated as the learning algorithm improves.