Abstract
The key advantage of
in situ
hybridization histochemistry with radiolabeled as opposed to nonradiolabeled probes is that relative differences in the amount of specific mRNA transcripts present in tissue sections can be accurately and reproducibly quantified. Precise quantification and localization of transcripts, as well as the enhanced sensitivity of
35
S-labeled probes, allows powerful qualitative as well as quantitative controls to be built into experiments. Interpretation of autoradiographs of tissue sections hybridized
in situ
depends on careful selection of control tissue and on the availability of a suitable computerized densitometer. Major limiting factors on the performance of
in situ
hybridization are the relative and particularly the absolute abundance of target transcripts.
In situ
hybridization on frozen sections produces higher signal intensity and lower background than
in situ
hybridization on wax-embedded sections, at the expense of tissue morphology (
see
Fig. 1
).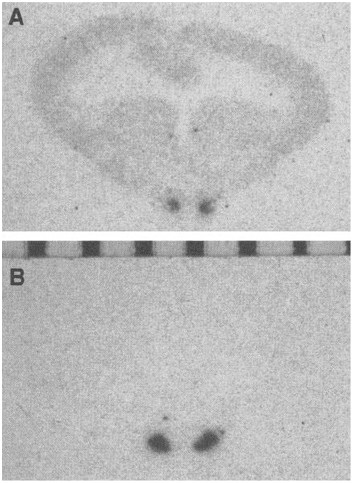 Keywords
Autoradiography Film 
Hybridization Histochemistry 
Autoradiographic Image 
Apple Macintosh Computer 
Tube Camera 
These keywords were added by machine and not by the authors. This process is experimental and the keywords may be updated as the learning algorithm improves.
Copyright information
© Humana Press Inc., Totowa, NJ 1997