Abstract
The open structure of the biocompatible polyethylene glycol polyamide copolymer (PEGA resin) is presented in
Fig. 1
, exemplified by the application of the commercially available bis-2-aminopropyl-PEG
1900
. With the use of this PEG
1900
, permeability with proteins up to 50 kDa has been achieved, as demonstrated by gel permeation chromatography (
1
). A resin-bound fluoroescencequenched peptide substrate showed 80% cleavage with subtihsin Carlsberg (MW 27 kDa) in 1 h and the cleavage went to completion in ∼2 h. The resin could also be used for glycopeptide assembly using bovine β-(1→4)-galactosyl transferase (MW 43/49 kDa) to transfer galactose to the 4-position of GlcNAc (
2
) In this example, the diffusion and reorientation of the enzyme inside the polymer network was a rate-limiting factor for the reaction, which could, however, be brought to completion in 72 h This indicates that the reaction was performed at the practical limit of protein size for preparative enzyme reactions in this resin. PEGA resins perform excellently in solid-phase assays of biomolecular reactions. Furthermore, they are transparent and no light is absorbed above 250 nm, so they can be used with a variety of different chromophores and fluorescent probes for detection of biomolecular reactions.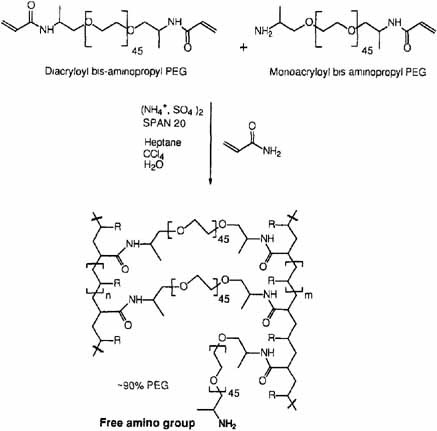 Keywords
Suspension Polymerization 
Tetramethyl Ethylene Diamine 
Acryloyl Chloride 
Zero Gravity 
Sorbitan Monolaurate 
These keywords were added by machine and not by the authors. This process is experimental and the keywords may be updated as the learning algorithm improves.
Copyright information
© Humana Press Inc., Totowa, NJ 1998