Abstract
The range of applications for large-scale synthetic molecule libraries (
1
,
2
,
3
,
4
,
5
,
6
,
7
) can be expanded if the constituents can be liberated locally from their supporting matrix in a controlled manner so that fractions are available for multiple independent tests, free of interference from other constituents of the library. A method was developed to study the functional responses arlsing from individual constituent beads in a synthetic combinatorial peptide library by introducing the multiuse peptide library (MUPL) concept (
8
). In the MUPL method (
Fig. 1
), peptides are liberated from their supports in a dry state so that the problem of signal interference caused by mixing of peptlde molecules, particularly agonists and antagonists, is avoided. In addition, the peptides are released rn a controlled manner so that fractions are available for repetitive screens, thus elimmating the need for iterative library analysis and resynthesis Since the liberated constituents are not constrained by the tethered linkers, the molecules are free to assume their native conformations. These unique features of an MUPL has enabled the use of large-scale synthetic molecule libraries for functional screening (
8
,
9
,
10
).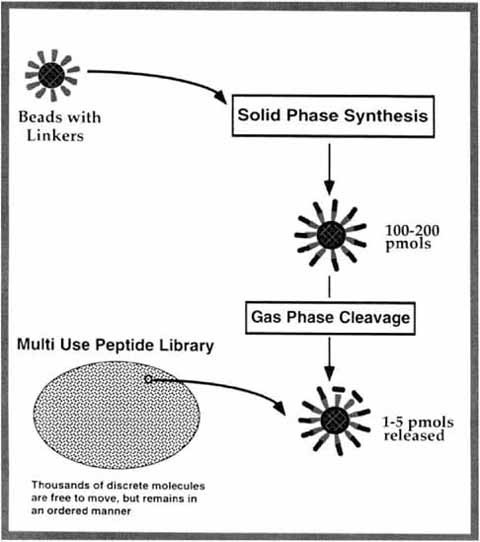 Keywords
Reaction Vessel 
Peptide Synthesis 
Peptide Library 
Polyethylene Sheet 
Functional Screening 
These keywords were added by machine and not by the authors. This process is experimental and the keywords may be updated as the learning algorithm improves.
Copyright information
© Humana Press Inc., Totowa, NJ 1998