Abstract
By June 1995, 112 gene therapy trials had been approved by the NIH Recombinant DNA Advisory Committee (RAC) in the US, involving 500 actual, planned, or projected patients (
1
,
2
,
3
). Marking trials comprise roughly 20% (25 in total) of all approved studies, while the remainder are considered to have therapeutic objectives. All together 87 treatment protocols are active, including 9 trials directed toward treatment of HIV infection, 21 that address genetic disorders, 1 each involving treatment of autoimmune or atherosclerotic disease, and 55 studies that target cancer therapy in some form (
see
Fig. 1
). Therapeutic trials include 38 in vivo studies and 42 ex vivo studies, all together employing over 81 vectors (50 murine, 15 adenovirus, 1 AAV), as well as several other delivery systems (12 lipid mediated and 3 naked DNA delivery protocols). Treatment studies involving protein expression include replacement studies (e.g., ADA deficiency, cystic fibrosis, α-1-antitrypsin deficiency, Gaucher's disease, familial hypercholesterolemia, and Hunter syndrome), and trials aimed to produce immunomodulation or immunoprophylaxis (including introduction of genetically engineered cytotoxic lymphocytes, vectors expressing viral proteins, and vectors expressing cytokines, such as GM-CSF, IL-2, IL-3, IL-6, IL-7, IL-12, and TNF, into malignant cells [
1
,
2
,
3
). Other trials involved introduction of toxin genes, particularly thymidine kinase (
hsv-tk
), into tumor tissue or protective genes (e.g., human multidrug resistance gene) into normal hematopoetic tissue to protect bone marrow during cytotoxic chemotherapy.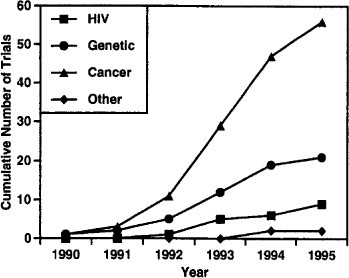 Keywords
Gene Therapy 
Familial Hypercholesterolemia 
Hammerhead Ribozyme 
Gene Therapy Trial 
Hairpin Ribozyme 
These keywords were added by machine and not by the authors. This process is experimental and the keywords may be updated as the learning algorithm improves.