Immobilization of Enzymes Acting on Macromolecular Substrates
Reduction of Steric Problems
Part of the Methods in Biotechnology book series (MIBT, volume 1)
Abstract
Substrates of small molecular size can reach the active site of immobilized enzymes without suffering significant steric hindrances generated by the support. The situation is very different when macromolecular substrates are used (
Fig. 1
). Some of these reactions are of great interest; for example, hydrolysis of starch by amylases, limited proteolysis catalyzed by proteases, and hydrolysis of RNA or DNA by nucleases. Immobilized proteins for affinity chromatography (protein A, antibodies, and so on) are a further example in which the interaction may involve a macromolecule (
1
). In this chapter, we present three different strategies to reduce the steric problems associated with immobilized enzymes:
1.

Use of supports with different internal morphology;

 

2.

Preparation of enzyme derivatives with different orientations of the enzyme molecule on the support;

 

3.

Use of adequate spacer arms.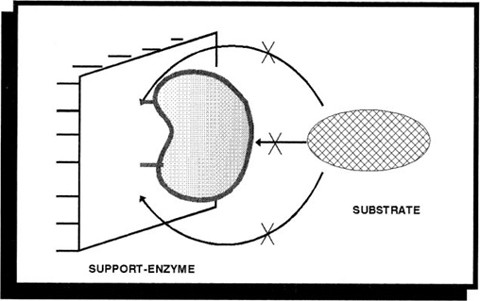 Keywords
Sodium Borohydride 
Bicarbonate Buffer 
Sodium Periodate 
Internal Morphology 
Potassium Iodide Solution 
These keywords were added by machine and not by the authors. This process is experimental and the keywords may be updated as the learning algorithm improves.
Copyright information
© Humana Press Inc , Totowa, NJ 1997