Abstract
When trying to identify a clone within a cDNA library, which may contain a coat protein (CP) gene, one useful technique may by immunological screening, using antibodies raised against either purified virus or isolated CP. Antibody screening can be carried out on a cDNA cloned into a wide range of vectors, including plasmids and phage-based vectors. Indeed, a whole plethora of commercial vectors are now available that have been optimized for generating expression libraries, including λ-gt11, λZAP (Stratagene, La Jolla, CA). However, antibody screening can be carried out on the simplest of plasmid vectors, based on the principle that, if the plasmid uses blue/white color selection, then a percentage of the cDNA inserts will be expressed as a fusion protein with β-galactosidase when the cells are induced with IPTG. The method described within this chapter will deal with such a plasmid screen, with readers directed to λ-screening chapters by Somssich and WeiBhaar in
Plant Gene Isolation
(
1
) and Hurst in
cDNA Library Protocols
(
2
), and (one of the original and best descriptions) by Huynh et al.
3
in
DNA Cloning: A Practical Approach
(
3
), all being good references for suitable lambda protocols. A typical immunological screen is shown in
Fig. 1
, for a pUC13 vector (
4
). Double-stranded cDNA to the carlavirus, Helenium virus S (HelVS) was ligated into
Sma
I digested pUC13 vector and transformed into competent
Escherichia coli
. Colonies were screened with both nucleic acid probes using HelVS specific (
32
P) first-strand cDNA (
Fig. 1
A
) and also using HelVS polyclonal antisera (
Fig. 1
B
).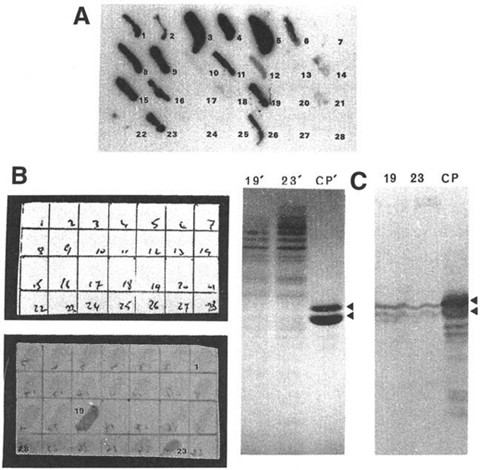 Keywords
Coat Protein 
Gentle Agitation 
pUC13 Vector 
Antibody Screening 
Nucleic Acid Probe 
These keywords were added by machine and not by the authors. This process is experimental and the keywords may be updated as the learning algorithm improves.