Abstract
Dengue virus is a member of the family
Flaviviridae
with a single-stranded positive sense RNA genome. The virus particle consists of a lipid bilayer with envelope (E) and membrane (M) proteins surrounding a spherical nucleocapsid composed of a genome RNA and capsid (C) proteins. The virion structure is easily destroyed by treatment with non-ionic detergent (
see
Fig. 1
) or low osmotic shock. Four antigenically related but distinct serotypes of dengue virus (DEN1, DEN2, DEN3, and DEN4) are circulating in tropical countries and cause dengue fever and dengue hemorrhagic fever, both of which are highly prevalent.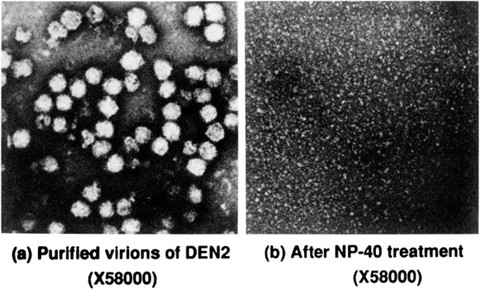 Keywords
Dengue Virus 
Dengue Fever 
Dengue Hemorrhagic Fever 
Sodium Cholate 
Polymerase Chain Reaction Procedure 
These keywords were added by machine and not by the authors. This process is experimental and the keywords may be updated as the learning algorithm improves.