Abstract
The majority of drugs are either acidic or basic water-soluble compounds, and many drugs may be adequately separated by FSCE. For example, an acidic drug may be analyzed in its anionic form at high pH, and basic drugs may be tested at low pH in their cationic form.
Figure 1
shows the efficient separation of a test mixture containing 11 basic drugs using a simple low-pH electrolyte. Zwitterionic drugs (those containing both acidic and basic groups) may be analyzed at either end of the pH range. However, a mixture of neutral and charged drugs would be unresolved by FSCE, and these would require separation by MECC (
see
Chapter 12
for further details and discussion of MECC, also called MEKC).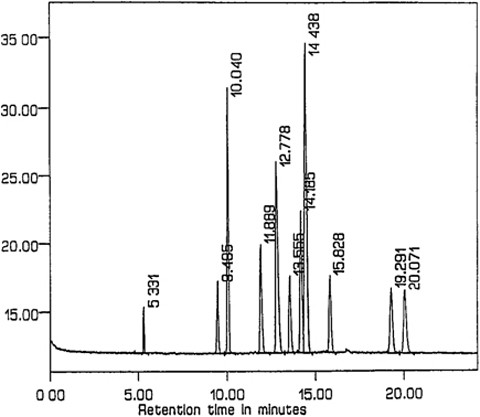 Keywords
Migration Time 
Drug Substance 
Chiral Separation 
Basic Drug 
Acidic Drug 
These keywords were added by machine and not by the authors. This process is experimental and the keywords may be updated as the learning algorithm improves.
Copyright information
© Humana Press Inc., Totowa, NJ 1996