Abstract
The development of fluorescent, calorimetric, and more recently chemiluminescent detection systems have opened the way to replace radioactive detection for DNA sequencing (1–3). Although the bulk of DNA sequencing is still carried out using radioactive detection, the availability of better chemistries, equipment, and protocols make nonradioactive detected DNA sequencing increasingly popular. This chapter describes a protocol for standard Sanger M 13 DNA sequencing (
4
,
5
) using enzymatically triggered 1,2-dioxetane chemiluminescence (
6
,
7
) for the detection, The principle of this method is illustrated in
Fig. 1
. The target DNA is immobilized onto a membrane and labeled with the enzyme alkaline phosphatase via an affinity system, such as the biotin/(strept)avidin or the digoxigenin system. Upon adding the dioxetane substrate to the membrane, the phosphatase will deprotect 1,2-dioxetane molecules by cleaving off the phosphate group, thereby initiating the chemiluminescent reaction that can then be detected as visible light. The main features of this detection system are speed, with detection times between l–30 min, sensitivity, between lo–100 attomoles of target DNA, and compatibility, since the method requires only equipment available in any molecular biology laboratory and allows the generation of the same data format (e.g., X-ray film hardcopy) as with radioactive detection. Since its first description in 1989 (
3
) several modifications and improvements have been reported for chemiluminescent detected DNA sequencing (7–11).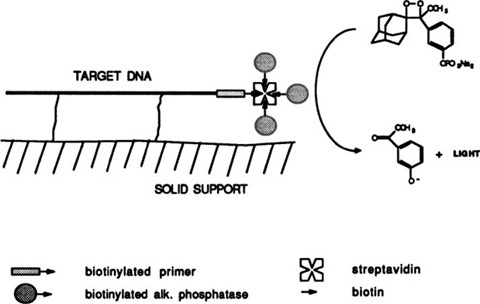 Keywords
Chemiluminescent Detection System 
Affinity System 
Plastic Wrap 
Radioactive Detection 
Enzyme Alkaline Phosphatase 
These keywords were added by machine and not by the authors. This process is experimental and the keywords may be updated as the learning algorithm improves.
Copyright information
© Humana Press Inc. Totowa, New Jersey 1993