Abstract
In general, immunological methods are not very well suited for a quantitative determination of the antigen to be studied. The ELISA technique, however, can be used for a quantitative or at least semiquantitative determination of the concentration of a certain antigen. The method was first introduced by Engvall and Perlmann (
1
). The principle of ELISA (see
Fig. 1
), also called the double antibody sandwich technique, is the following: Antibodies against the antigen to be measured are adsorbed to a solid support, in most cases a polystyrene microtiter plate. After coating the support with antibody and washing, the antigen is added and will bind to the adsorbed antibodies. Next, a conjugate that will also bind to the antigen is added. Conjugates are antibody molecules to which an enzyme is covalently bound.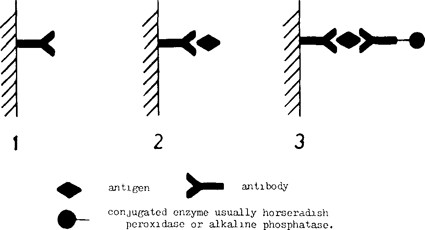 Keywords
Substrate Solution 
Caprylic Acid 
Conjugate Solution 
Sodium Carbonate Buffer 
Polystyrene Microtiter Plate 
These keywords were added by machine and not by the authors. This process is experimental and the keywords may be updated as the learning algorithm improves.