Abstract
Malaria is a disease that kills more than a million people each year in tropical and subtropical countries. The disease is caused by Plasmodium parasites and is transmitted to humans exclusively by mosquitoes of the genus Anopheles. The lack of functional approaches has hampered study of the biological networks that determine parasite transmission by the insect vector. The recent discovery of RNA interference and its adaptation to mosquitoes is now providing crucial tools for the dissection of vector–parasite interactions and for the analysis of aspects of mosquito biology influencing the vectorial capacity. Two RNAi approaches have been established in mosquitoes: transient gene silencing by direct injection of double-stranded RNA, and stable expression of hairpin RNAs from transgenes integrated in the genome. Here we describe these methods in detail, providing information about their use and limitations.
Key words
Malaria 
mosquito 
RNAi 
transgenesis 
immunoblotting 
q-PCR 
5.1

Introduction

Human malaria persists today as one of the most widespread and devastating infectious diseases in the world. Plasmodium parasites are transmitted to humans when an infected Anopheles mosquito takes a blood meal. The relationship between the mosquito vector and the malaria parasite is shaped by a complex network of biological interactions determining whether a given mosquito species will be capable of sustaining parasite development. Moreover, the vector competence to transmit disease is also governed by a series of factors intrinsic to mosquito biology, such as host preferences, longevity, immunity, and reproductive rates. However, while efficient genetic methods to study gene function in Plasmodium have long been established (1), functional studies in the mosquito vector are lagging behind, and until recently little was known about the factors influencing Plasmodium development in the Anopheles vector.

Since the recent discovery of RNA interference, the "RNAi revolution" has reshaped the field of functional genomics, allowing characterization of genomes previously recalcitrant to targeted gene manipulation. This revolution has also hit mosquito research. Combined with the availability of the genome sequence of the major malaria vector, Anopheles gambiae, RNAi provides a new tool for malaria research, permitting study of molecules and mechanisms of mosquito biology that are relevant to disease transmission. Here, we describe two approaches for RNAi-based silencing in Anopheles for performing functional analysis in the mosquito vector. Further development of these methods might ultimately lead to new ways of controlling and perhaps even eradicating this devastating disease.
5.2

Materials
5.2.1

dsRNA Synthesis
1.

pLL10 (Fig. 5.1A): A pBluescript-based plasmid with two T7 promoter sequences flanking the polylinker region in opposite directions (2).

 

2.

Proteinase K stock solution: 20 mg/mL in sterile 20 mM Tris (pH 8); 1.5 mM CaCl2, 50% glycerol. Aliquots can be stored at –20°C. Proteinase K buffer: 10 mM Tris-HCl (pH 8); 10 mM EDTA (pH 8); 5 mM NaCl; 2 mM CaCl2. Proteinase K final solution: add 1 μL of proteinase K (20 mg/mL) to 150 μL of buffer. Store in 50 μl aliquots (one tube for two reactions) at –20°C.

 

3.

Linearized plasmid and RNA purification: RNase-free (DEPC-treated) water; phenol/chloroform/isoamyl alcohol (25:24:1); chloroform; isopropanol; 70% ethanol. All reagents should be RNase-free.

 

4.

Synthesis and purification of single-stranded RNAs (ssRNAs): T7 MEGAscript kit (Ambion, Applied Biosystems, Foster City, CA, USA).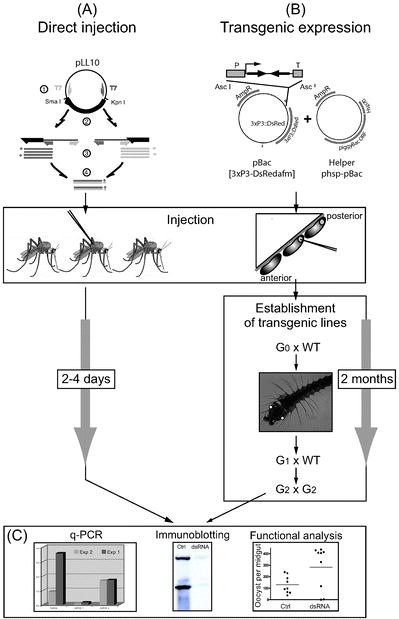 5.2.2

Plasmids for Stable RNAi and Injection Mixture
1.

Transformation vector pBac[3xP3-EGFPafm] or similar, which contains a fluorescent protein selectable marker under control of the artificial 3xP3 promoter cloned within the inverted repeats of the piggyBac transposable element (Fig. 5.1B).

 

2.

Helper plasmid phsp-pBac, which contains the piggyBac transposase gene driven by the hsp70 promoter from Drosophila melanogaster (3) (Fig. 5.1B).

 

3.

Injection mixture: 400 μg/mL of transformation vector and 150 μg/mL of helper plasmid phsp-pBac in injection buffer (see Section 2.4, Step 2). Prepare three or more aliquots of 20 μL each. Keep at –20°C until use.

 
5.2.3

Injection of dsRNA into Adult Mosquitoes
1.

Strains of A. gambiae can be obtained from the MR4 (see Note 1). Mosquitoes are bred at 28°C and 70% humidity, with a day/night period of 12 h/12 h.

 

2.

Waxed paper cartons (e.g., ice-cream or drink containers); filter paper circles of a matching diameter to fit in the bottom of the cartons (#1, Whatman, Kent, UK); fine nylon or cotton netting; tape; small elastic bands.

 

3.

 

4.

Absorbent cotton wool; 10% sugar solution in water; small-sized Petri dish bottoms.

 

5.

CO2 bottle, CO2 distributor, and pad (InjectMatic, Geneva, Switzerland).

 

6.

Injector Nanoject II (Drummond, Broomall, USA); capillaries (FT330B); a syringe (1 mL) and needle (G24) filled with mineral oil; a paintbrush, forceps.

 

7.

Micropipette puller (P-97, Sutter Instrument Company, Novato, USA).

 
5.2.4

Establishment of Transgenic Mosquitoes Expressing Hairpin RNAs
1.

 

2.

Injection buffer (5 mM KCl, 0.5 mM sodium phosphate, pH 6.8), filter paper, a fine paintbrush, glass slides.

 

3.

Isotonic buffer (150 mM NaCl, 4.9 mM KCl, 10.7 mM, Hepes, 2.4 mM CaCl2, pH 7.2) (see Note 2).

 

4.

Stereoscope MZ6 (Leica, Wetzlar, Germany) with cold light source CLS150, or similar.

 

5.

Reverted microscope Diaphot or similar, with 5x, 10x, and 20x objectives; NT-88NE three-dimensional micromanipulator (Narishige, Tokyo, Japan) or similar; microinjector Eppendorf femtojet (Eppendorf AG, Hamburg, Germany) or similar; sterile femtotip capillaries (Eppendorf AG, Hamburg, Germany); microloaders (Eppendorf AG, Hamburg, Germany).

 

6.

Small Petri dishes (60 mm), 3MM Whatman filter paper (Whatman, Kent, UK), blotting paper.

 

7.

Fluorescence microscope Nikon Eclipse TE200 (Nikon, Melville, USA) or similar; fluorescence filter sets (Texas Red/Cy3.5 and Blue GFP Bandpass).

 

8.

Incubator at 28°C, 70% humidity with a day/night period of 12 h/12 h.

 
5.2.5

Analysis of Efficiency of RNAi Silencing
1.

Hand-held homogenizer, TRIzol reagent (Invitrogen, Cergy Pontoise, France), DEPC-treated water, sterile RNase-free labware (tips, microtubes), chloroform, isopropanol, 75% ethanol, spectrophotometer.

 

2.

SuperScript III reverse transcriptase and reaction buffer (Invitrogen, Cergy Pontoise, France) or similar, dNTPs, random hexamer primers, RNase OUT (Ambion, Applied Biosystems, Foster City, CA, USA), PCR machine.

 

3.

SybrGreen reaction mix, primers specific for the target gene (see Note 3).

 

4.

Quantitative PCR machine (see Note 4).

 

5.

Polyacrylamide gel electrophoresis, running buffer, 6x protein loading buffer (350 mM Tris-HCl (pH 6.8); 10.28% SDS; 36% Glycerol; 5% ß-Mercaptoethanol; 0.012% Bromphenol blue), PageRuler™ Prestained Protein Ladder (Fermentas International Inc, Burlington, Canada).

 

6.

Membrane for protein transfer (Amersham Hybond-P, GE Healthcare UK Ltd, Buckinghamshire, England), wet protein transfer unit (Bio-Rad Laboratories, Hercules, USA), transfer buffer.

 

7.

Washing solution: Phosphate-buffered saline (PBS): prepare a 10x stock (130 mM NaCl; 7 mM, Na2HPO4; 3 mM NaH2PO4) and autoclave. For working solution, dilute one part with nine parts of water. Blocking solution: PBS, 5% nonfat milk powder (Nestlé S.A., Vevey, Switzerland)).

 

8.

Secondary antibody solution: Use the recommended dilution of anti-rabbit, anti-mouse, or anti-rat IgG antibodies conjugated with horseradish peroxidase (HRP).

 

9.

Amersham ECL™ Western Blotting Detection Reagents (GE Healthcare UK Ltd, Buckinghamshire, England).

 

10.

X-ray film (Fuji Photo Film CO., Ltd, Tokyo, Japan), cassette.

 
5.3

Methods

In Anopheles mosquitoes, RNAi-mediated silencing can be achieved by two different methods: (a) injecting double-stranded RNA (dsRNA) directly into the body cavity of adult mosquitoes (2) (Fig. 5.1A); and (b) expressing dsRNA in situ from a stably integrated transgene (4, 5) (Fig. 5.1B). The method of choice often depends on the application. Direct injection of dsRNA permits a fast assessment of the function of the target gene at a selected developmental stage, allowing rapid medium-scale screens. The relatively high number of mosquitoes needed for injections and the transient nature of silencing of some genes are among the most common limitations of this method. The generation of transgenic lines expressing stable RNAi transgenes is more labor intensive; however, it provides an inexhaustible supply of mutant mosquitoes for in-depth phenotypical and biochemical analyses, and allows the time and tissue-specific knockdown of the target genes through the use of appropriate promoters.

Direct injection of dsRNA includes several steps: (a) a candidate gene is selected; (b) the optimal target sequence is cloned into an appropriate vector for dsRNA synthesis; (c) dsRNA is injected into adult mosquitoes and the efficiency of gene silencing is examined 1–4 days after injection. In general, the whole process, from the selection of a gene of interest to elucidation of its function in the particular biological process, may be achieved in 1 month. Understandably, establishment of transgenic mosquitoes requires longer periods before any functional tests can be performed. This includes the sometimes delicate cloning into the piggyBac expression vectors; injections of a large number of embryos; efficient crossing methods to obtain a sufficiently large G1 progeny; screening of G1 individuals, normally at the larval stage; identification of positive, transgenic individuals; and the establishment of transgenic lines. Initial functional analysis can be performed with heterozygous lines, provided a screening is carried out to ensure the transgenic origin of the individuals selected for the experiments. In all, it might take 2–3 months from the identification of the gene of interest to the establishment of the transgenic line(s).
5.4

Notes
1.

MR4 (Malaria Research and Reference Reagent Resource) stores and provides reagents to the malaria research community; see http://www.malaria.mr4.org/.

 

2.

Solutions are stored at RT, unless otherwise stated.

 

3.

The choice of the reaction mix depends on the q-PCR machine; in our experience, testing a number of primer concentrations greatly improves efficiency.

 

4.

Similar results are obtained with different brands of q-PCR machines.

 

5.

Sequencing of an insert cloned in pLL10 can be done using universal M13 forward and reverse primers.

 

6.

All plasmid DNA should be digested as RNA polymerases are very processive and will generate long heterogeneous transcripts from circular plasmids.

 

7.

When transcription is optimal, the reaction at the end is rather viscous.

 

8.

Sense and antisense ssRNAs can be produced in a single reaction, e.g., from a PCR fragment that was amplified with primers bearing T7 promoters. However this does not ensure that both strands are synthesized with the same efficiency. We therefore prefer to prepare sense and antisense ssRNAs separately and measure their respective concentrations before annealing, to make sure equal quantities of both strands are mixed and to obtain reproducible quantities of dsRNA.

 

9.

The maximum volume that can be injected at once is 69 nL. To inject larger volumes, repeated injections (up to four) can be performed.

 

10.

With one filled needle, about 60 mosquitoes can be injected with 69 nL each.

 

11.

Excess of CO2 treatment is toxic to mosquitoes.

 

12.

Humidity improves survival of injected mosquitoes. Make sure to place mosquitoes into a humidified incubator or chamber immediately after injection.

 

13.

To facilitate cloning of the sense and antisense inverted repeats in E. coli, it may be necessary to insert a small linker region or an intron between them (5).

 

14.

In the case of Anopheles stephensi mosquitoes, it is advisable to soften their chorion before injection to facilitate the injection procedure. To this end, embryos are laid in a 0.1 mM p-nitrophenyl p ′-guanidinobenzoate (pNpGB) (Sigma-Aldrich, St. Louis, USA) solution, dissolved in isotonic buffer, and kept there until injection (7).

 

15.

Many laboratories prefer to pull their own capillaries and use quartz needles for the injection procedure (8).

 

16.

During a set of injections, it is likely that the needle will get clogged due to cytoplasm uptake. It may then be necessary to use the "Clean" function on the Femtojet (reaching high pressure values) to try to unclog the needle, and in some cases the same function may be used for the actual injection procedure.

 

17.

Collected samples can be kept at –80°C for several weeks until further use.

 

18.

To obtain sufficient amounts of cDNA the reaction volume can be scaled up to 100 μL.

 

19.

Not all genes show significant differences at the transcriptional level. In some instances (e.g., Cactus) reduction of 20% in the transcriptional level is sufficient to trigger a prominent phenotype (9).

 

20.

Do not store the remaining samples, as protein extracts are not stable and rapidly degrade.

 
Notes
Acknowledgments
The authors first developed these methodologies while working at the EMBL in the group of Professor Fotis C. Kafatos (dsRNA injections) and in the laboratory of Professor Andrea Crisanti at Imperial College London (transgenesis). They further acknowledge members of the London and Strasbourg laboratories for constructive discussions. This work was supported by grants from CNRS, Inserm, Wellcome Trust, BBSRC, Schlumberger Foundation For Education and Research (FSER), and by the 6th European Commission Programme "Networks of Excellence" BioMalPar. F.C. is a MRC Career Development fellow. E.A.L. is an International Scholar of the Howard Hughes Medical Institute.
Copyright information
© Humana Press, a part of Springer Science+Business Media, LLC 2009