Mapping Lipid Distribution in Rat Sciatic Nerve Using Imaging Mass Spectrometry
Part of the Methods in Molecular Biology book series (MIMB, volume 1791)
Abstract
Lipids are essential components of cells and tissues. They play active and central roles in signaling and many biological functions and therefore their dysregulation is very often the first signal of function alteration. Here we describe the protocol to analyze not only lipid expression in rat sciatic nerve but also the lipid distribution along its different anatomic areas. The protocol combines results from MALDI-IMS and UHPLC-MS/MS to identify and cartography the maximum number of lipid species in the tissue.
Key words
Lipidomics 
Imaging mass spectrometry 
UHPLC 
MALDI 
Sciatic nerve 
1

Introduction

Lipids are good candidates for biomarkers, as their alteration is very often the first sign of a change in a cell or tissue metabolic stage [1]. However, due to the large abundance of species with very small structural differences, their analysis is not simple [2]. Furthermore, their abundance and even the role they play may change between tissues or even between different cells on a given tissue [3, 4]. Therefore, image techniques are required in their analysis to understand the changes in their profile in the context of a given disease [5]. Here we present a combination of UHPLC (ultrahigh performance liquid chromatography) coupled to mass spectrometry (MS) and MALDI-IMS (matrix-assisted laser desorption/ionization-imaging mass spectrometry) to determine the lipid composition of rat sciatic nerve and the relative abundance of those lipids on the three main anatomic areas of the sciatic nerve [6].

Two types of samples are used in this protocol: lipid extracts from the sciatic nerve are obtained and the main lipid classes are separated by UHPLC , while the composing lipids are detected using MS. Their identity is resolved using the values of the retention times and the fragmentation patterns (MS/MS). Final comparison with the corresponding values from standards helps to unequivocally identify the species (

see

Fig.

1

). In parallel, sections of the sciatic nerve are subjected to MALDI-IMS to obtain the lipid distribution along the section. Assignment of the lipids in the images is done by comparison of the

m

/

z

(mas-to-charge) ratio of the species with those from the library of lipids built by UHPLC-MS/MS. The protocol described assumes that an orbitrap-type analyzer will be used. For other kinds of instruments, small modifications of the protocol may be required, as specified by the manufacturer.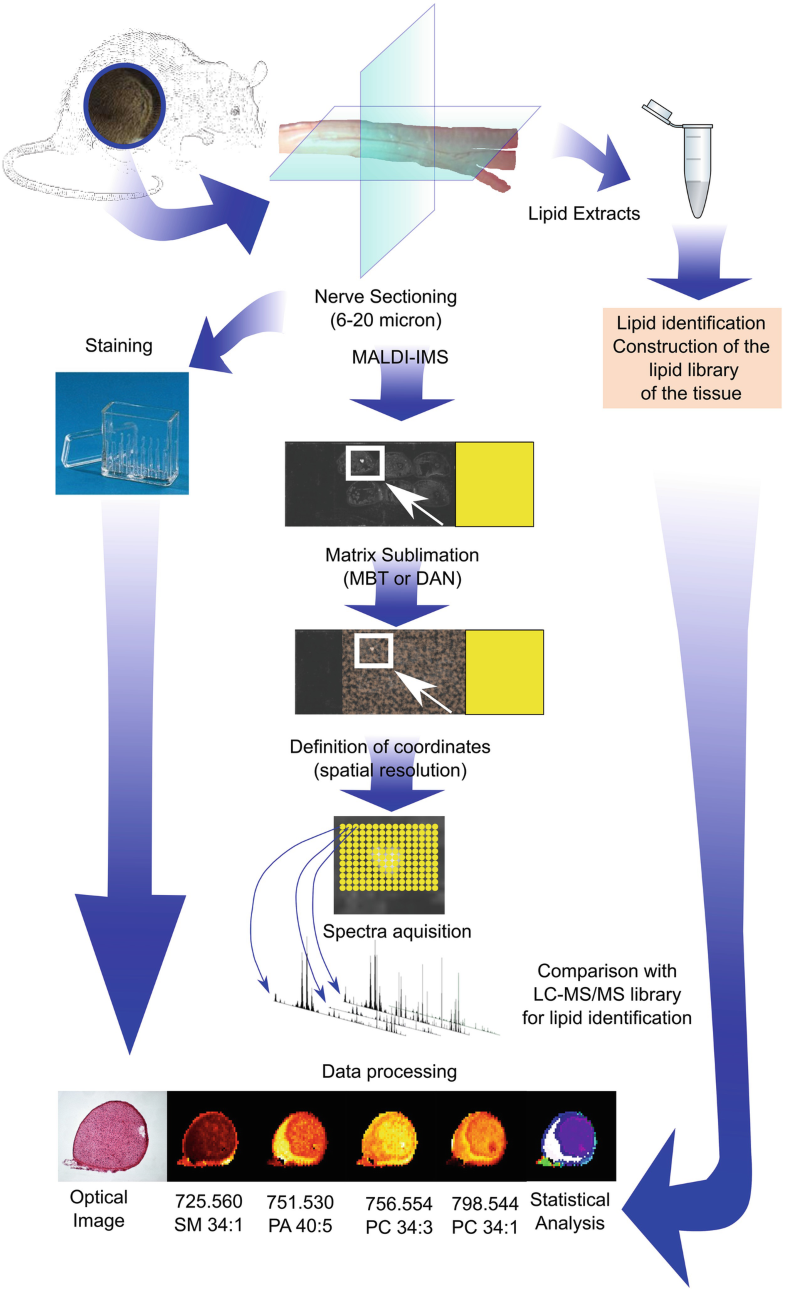 2

Materials
2.1

Lipid Extraction
1.

Polytron homogenizer (KINEMATICA AG; System PT1200 C), and probe PT-DA 1207/2 (KINEMATICA AG).

 

2.

Refrigerated centrifuge Sorvall RT7 and RTH 750 swinging bucket rotor.

 

3.

Savant SpeedVac concentrator SC250 EXP and rotor.

 

4.

Microplate reader PowerWave XS2.

 

5.

Phosphate buffer saline (PBS): PBS is prepared as a 10× stock solution by dissolving 87.66 g NaCl, 2 g KCl, 14.4 g Na2HPO4, and 2.4 g KH2PO in 1 L of MilliQ water.

 

6.

Biorad bicinchoninic acid (BCA) protein assay, reagents A (23228) and B (23224).

 

7.

Bovine Serum Albumin (BSA) Fraction V.

 

8.

Organic solvents (chloroform and methanol) of HPLC grade.

 

9.

 
2.2

UHPLC-MS/MS
1.

Ultrahigh performance liquid chromatographer (UHPLC), Acquity UPLC™, and column (Acquity UPLC HSS T3 1.8 μm, 100 × 2.1 mm) and precolumn (Acquity UPLC HSS T3 1.8 μm VandGuard).

 

2.

Tamden mass spectrometer quadrupole time of flight (Q-TOF), SYNAPT G2 HDMS.

 

3.

MassLynx software Version 4.1 (Waters MS Technologies).

 

4.

MSe Data Viewer (Waters MS Technologies).

 

5.

SimLipid 5 software (Premier Biosoft).

 

6.

Software package R (v3.2.2)/XCMS(v1.50.1).

 

7.

Water, acetonitrile, 2-propanol, and formic acid of Optima LC/MS grade .

 

8.

Leucine-enkephalin solution: leucine enkephalin acetate hydrate (2 ng/μL) in acetonitrile:water (50:50 v/v) and 0.1% formic acid.

 

9.

Sodium formate solution (0.5 mM).

 

10.

 

11.

Sodium hydroxide solution.

 
2.3

MALDI—IMS
1.

MALDI matrices: MBT (2-mercaptobenzothiazole) and DAN (1,5-diaminonaphthalene), 97% purity.

 

2.

Glass sublimator (Ace Glass 8023).

 

3.

Vacuum pump (Duo 2.5, 2.9 m3/h).

 

4.

 
2.4

Hematoxylin and Eosin Stain
1.

Acid alcohol: 1% HCl in 70% ethanol.

 

2.

 

3.

Scott's solution: 240 mM NaHCO3 and 1.7 mM MgSO4 in distilled water.

 

4.

 

5.

Eosin Y alcoholic solution.

 

6.

Harry's hematoxylin solution.

 

7.

DPX mountant for histology.

 
3

Methods
3.1

Lipid Extraction
1.

On the day of the experiment, thaw on ice sciatic nerve pieces of between 20 and 60 μg, kept at −20 °C (preferable −80 °C).

 

2.

Wash the tissue in phosphate buffer saline (PBS), dry and homogenize in 200–500 μL of ice-cold PBS with ten bursts of 10 s on-and-off using a Polytron homogenizer. Keep the homogenate on ice while protein concentration is determined.

 

3.

Determine protein concentration of the homogenates (5 μL) in triplicates using the BCA protein assay and BSA as a standard following the manufacturer recommendations for a microassay (96 well-plates). Add to each well 150 μL BCA reagent (50:1, A:B, v/v) and either 5 μL sample and 45 μL water or the corresponding volume of 1 mg/mL BSA (containing 0.5–50 μg/well) and water to make 50 μL. After 30 min incubation at 37 °C in darkness, read absorbance at 562 nm in a microplate reader. Protein amount is calculated by interpolating the absorbance of the sample in the BSA standard curve.

 

4.

Lipids from tissue homogenates (~2–3 mg protein) are extracted following the method of Bligh and Dyer [7] with slight modifications. We use glass tubes of 35 mL of capacity and polished mouth as well as polished caps (see Note 1 ). Lipid standards are added before extraction (see Note 2 ).

 

5.

Pipette 0.6 mL homogenate, 3 mL chloroform, and 6 mL methanol; cap the tubes and vortex for 2 min. Then, add 3 mL chloroform and vortex for 1 min. Add 4.8 mL of water and vortex for 1 min.

 

6.

Centrifuge at 1200 × g, at 4 °C for 15 min.

 

7.

Transfer the lower phase to a clean glass tube with a glass Pasteur pipette and reserve.

 

8.

Re-extract lipids from the protein inter-phase and the polar upper-phase by adding 2.4 mL of each chloroform, methanol, and water. After vortexing for 2 min, centrifuge at 1200 × g, at 4 °C for 10 min.

 

9.

Discard the upper-phase by aspiration and transfer the chloroformic phase combining it with that previously reserved (see Note 3 ).

 

10.

Evaporate solvents in a Savant SpeedVac concentrator under conditions of mild temperature and vacuum pressure (this takes ~50 min).

 

11.

Dissolve the dried extract in 0.9 mL chloroform:methanol 2:1 (v/v) and transfer it to an HPLC vial.

 

12.

Evaporate solvents as above (this takes ~40 min).

 

13.

The dried extracts are immediately placed under nitrogen atmosphere and stored at −80 °C until use.

 
3.2

UHPLC-MS/MS
1.

Dissolve lipid extracts (study samples) in 300 μL of chloroform:methanol (2:1, v/v).

 

2.

Prepare: (i) a quality control sample (QC) by pooling 75 μL aliquots from all the study samples; (ii) a quality control system (QCsys), which is a sample containing the matrix studied, prepared in the same way as QC samples; and (iii) blank sample which are chloroform:methanol (2:1, v/v).

 

3.

Chromatography is carried out by using an Acquity UPLC system equipped with a binary solvent delivery pump, an autosampler, and a column oven (see Note 4 ). The extracts are injected onto a precolumn (Acquity UPLC HSS T3 1.8 μm VandGuard) and a column (Acquity UPLC HSS T3 1.8 μm, 100 × 2.1 mm), heated to 65 °C. Mobile phases consist of acetonitrile and water with 10 mM ammonium acetate (40:60, v/v) (phase A) and acetonitrile and 2-propanol with 10 mM ammonium acetate (10:90, v/v) (phase B). Separation is carried out in 13 min under the following conditions: 0–10 min, linear gradient from 40% to 100% B; 10–11 min, 100% B; and finally, reequilibration of the system with 40% B (v/v) for 2 min prior to the next injection. Flow rate is 0.5 mL/min and injection volume is 7.5 μL (see Note 5 ). All samples are kept at 4 °C during the analysis.

 

4.

UHPLC-MSE data are acquired on a SYNAPT G2 HDMS, with a Q-ToF configuration, equipped with an electrospray ionization (ESI) source that can be operated in both positive- and negative-ion modes. The capillary voltage is set to 0.7 kV (ESI+) or 0.5 kV (ESI−). Nitrogen is used as desolvation and cone gas, at flow rates of 900 L/h and 30 L/h, respectively. The source temperature is 120 °C, and the desolvation temperature is 400 °C.

 

5.

Leucine-enkephalin solution is utilized for the lock-mass correction and the ions at mass-to-charge ratios (m/z) 556.2771 and 278.1141 (positive-ion mode), or 554.2615 and 236.1035 (negative-ion mode) from this solution are monitored at scan time 0.3 s, and at 10 s intervals, three scans on average, using a mass window of ±0.5 Da. The rest of the conditions are: lockspray capillary 2.0/2.5 kV and collision energy 21/30 eV in ESI+/ESI–, respectively. The reference internal calibrant is introduced into the lock mass sprayer at a constant flow rate of 10 μL/min using an external pump.

 

6.

Acquired spectra are automatically corrected during acquisition using the lock mass. Before analysis, the mass spectrometer is calibrated with a 0.5 mM sodium formate solution.

 

7.

Data acquisition takes place over the mass range 50–1200 u in resolution mode (FWHM≈20,000) with a scan time of 0.5 s and an inter-scan delay of 0.024 s. The mass spectrometer is operated in the continuum MSE acquisition mode for both polarities. During this acquisition method, the first quadrupole Q1 is operated in a wide band rf mode only, allowing all ions to enter the T-wave collision cell. Two discrete and independent interleaved acquisition functions are automatically created: the first function, typically set at 6 eV, collects low energy or unfragmented data, whereas the second function collects high energy or fragmented data typically obtained by using a collision energy ramp from 15–40 eV. In both cases, Ar gas is used for collision induced dissociation (CID).

 
3.3

Data Processing for UHPLC-MSE and Identification of Lipids
1.

MassLynx software is used for instrument control, data acquisition, and processing. For quantitative purposes, waters ".raw" data files are converted to NetCDF format using the DataBridge converter from MassLynx and processed using the freely available data analysis software package R (v3.2.2)/XCMS(v1.50.1) including the MatchedFilter algorithm, in order to convert the three-dimensional LC-MS raw data (RT, m/z, intensity) into a table of time-aligned detected features, with their RT, m/z, and intensity in each sample. For qualitative purposes, UHPLC-MSE acquired files are processed with the software tool MSe Data Viewer (see Note 6 ). This software is utilized for aligning precursor and product spectra according to retention times, generating an exportable text file, which is used for lipid identification using SimLipid 5 software.

 

2.

The identity of lipids is elucidated using the retention time and the low collision energy MSE spectrum in positive and negative mode to determine the molecular weight. The high collision energy MSE spectrum yields the fragmentation and is used to elucidate other structural details. The addition of ammonium acetate in positive-ion mode mobile phases at low collision energy MSE enhances the signal of neutral lipids species, triacylglycerols (TG) and cholesteryl esters (CE), and phosphatidic acid (PA), which are detected as [M + NH4]+ adducts. Phosphatidylcholines (PC), including their associated lysoforms (LPC) and sphingomyelins (SM) are detected as [M + H]+ ions, whereas free fatty acids (FA), phosphatidylethanolamines (PE) and their lyso-forms (LPE), phosphatidylinositol (PI), phosphatidylglycerol (PG), phosphatidylserine (PS) are detected as [M−H]− ions. Despite the use of ammonium acetate , sodium adduct ([M + Na]+) signal is more intense for some lipid classes, i.e., glycosylceramides (GlyCer) and diacylglycerols (DG). The assignment to a specific lipid class is confirmed also by the fragmentation pattern using known precursor ions and/or neutral losses. Thus, we investigate the diagnostic fragments of the polar headgroup or the fatty acyls chains to confirm the annotation proposed by Simlipid (see Note 7 ).

 
3.4

MALDI-IMS
1.

The protocol starts with a tissue section of 6–20 μm thick kept at −20 °C (preferable −80 °C) under nitrogen atmosphere, deposited on a microscope slide with not fixation polymers or any other type of additive (see Note 8 ).

 

2.

Bring the tissue at room temperature while it is still under inert atmosphere (see Note 9 ).

 

3.

Preheat a hot plate at 125 °C, the temperature required for matrix sublimation. Set the same temperature for the two matrices: MBT for positive-ion mode and DAN for negative-ion mode.

 

4.

Meanwhile, before starting the matrix deposition , scan the section using the scanner supplied by the manufacturer. Import the image to Thermo Tune Plus 2.5.5 SP1 (control software) to define the area to be analyzed (see Note 10 ).

 

5.

After weighting the slide with the section to determine afterwards the amount of matrix deposited, get the glass sublimator and attach the glass slide with the tissue section upside-down to the tip of the cold finger.

 

6.

Add ~150 mg of matrix to the bottom of the sublimator and close it.

 

7.

Add a mixture of water and ice (mostly ice) to the cold finger to favor matrix deposition on the tissue section.

 

8.

Place the sublimator on top of the hot plate and turn vacuum on, reaching around 10−2 mbar (see Note 11 ). Wait for the time required to achieve deposition of the amount of matrix required, which is usually between 7 and 8 min, to get a layer of ~0.1–0.2 mg/cm2.

 

9.

Remove the sublimator from the hot plate and break carefully the vacuum. This must be done in a vented hood to prevent breathing the vapors from the hot matrix.

 

10.

Detach the slide from the cold finger and weigh it to determine the amount of matrix deposited per cm2. Some parameters, mainly lab moisture and temperature, but also the type of tissue, introduce some variability in the amount of matrix deposited under the same conditions. For example, fatty tissues require longer deposition times. Thus, checking the actual amount of matrix deposited helps preventing sample spoiling.

 

11.

Using the control software, define the area to be analyzed in the previously imported scanned image.

 

12.

Then, check the laser energy required for that particular sample and for the amount of matrix deposited, in order to optimize the s/n ratio and to eliminate every trace of matrix at each pixel. For that, we shoot 20 times at different energy densities over an area of the section that will not be scanned during the real experiment.

 

13.

The total area that can be scanned depends on the maximum spatial resolution, mass resolution, and the amount of matrix deposited, because the higher the mass resolution and the smaller the pixel size, the longer the experiment will take, giving the matrix layer time to sublimate in the high vacuum conditions inside the spectrometer, around 10−10 mbar. Then, it is necessary to reach a good consensus between the three parameters, taking into account the information that one wants to extract from the tissue. The MALDI source of the mass spectrometer is equipped with a N2 laser that produces an astigmatic spot of ~150 × 40 mm2, although energy distribution on the spot is not uniform and it changes between laser shots and with the energy/pulse used (see Note 12 ). Hence, any experiment of pixel sizes smaller than ~150 μm involves spot overlapping, and therefore a sufficient number of shots-per-pixel at high-enough energy must be used to clean the matrix, so there is no signal interference from one pixel to the next one (see Note 13 ). A minimum mass resolution of 60,000 (100,000 is preferred) must be used in positive-ion mode, due to the interference of species and formation of Na+/K+ adducts. In negative-ion mode , it is possible to scan at a resolution of 30,000 but then some peaks overlapping will exist (see Note 14 ). Increasing resolution from 30,000 to 60,000 or from 60,000 to 100,000 approximately doubles the scanning time. Regarding the total image size, it is difficult to maintain a stable signal for more than 12,000–15,000 pixels and therefore the area/spatial resolution ratio must be adjusted not to exceed such limits.

 
3.5

Hematoxylin and Eosin Staining

It is convenient to take optical images of a consecutive section to compare with the IMS images and to verify that the lipid distribution follows the histology of the sample. Most commonly, hematoxylin and eosin (H&E) stain is used, but depending on the samples other protocols may be more convenient for that purpose. The procedure for this method is as follows:
1.

Prepare 14 glass tanks for staining, containing 100% ethanol (4), 96% ethanol (6), hematoxylin (filter before use), acid alcohol, Scott's solution, eosin, citrosol (2), and distilled water (2).

 

2.

Dry the tissue section deposited on a slide in an oven at 30 °C for 30 min.

 

3.

Dip slides successively in 100% ethanol tank 1 for 2 min, 100% ethanol tank 2 for 2 min, 96% ethanol tank 1 for 1 min, and finally 96% ethanol tank 2 for 1 min.

 

4.

Rinse slides for 2 min in distilled water tank 1.

 

5.

Dip slides in Harry's hematoxylin for 5 min and rinse with running tap water for 2 min.

 

6.

Dip slides in acid alcohol for 30 s and rinse with running tap water for 3 min.

 

7.

Dip in Scott's solution for 90 s and rinse with running tap water for 3 min. Check that the nuclei are stained in blue. If they are too stained, leave the sample for 5–10 s in Scott's solution. If the nuclei are not stained enough, go back to step 5.

 

8.

Dip slides for 2 min in each 96% ethanol tank 3 and tank 4.

 

9.

Dip for 2 min in Eosin Y solution.

 

10.

Dehydrate through 96% ethanol tank 5 and tank 6, 2 min each, and then through 100% ethanol tank 3 and 4, 2 min each.

 

11.

Dip in citrosol tank 1 for 5 min and another 5 min in the second tank of citrosol.

 

12.

Rinse in distilled water several times.

 

13.

Once dry, permanently mount with coverslip and a drop of DPX mounting media.

 
3.6

Data Treatment

Data analysis may be carried out with the software provided by the mass spectrometer manufacturer but in most cases, such software does not allow for a complete treatment of the data. We use MSIAnalyst 2.0 (Noraybioinformatics S.L.) that is a computer program specifically created for MALDI-IMS data treatment, but there are also other free and commercial software available. Nevertheless, the steps described below must be followed to avoid data treatment pitfalls.
3.6.1

Data Transfer

First data must be transferred from the vendor's format into the software's format. This step usually involves a reduction in the data size which is usually carried out to speed up the rest of the operations. A typical experiment recorded between 400 and 1000 Da occupies between 100 and 200 Mb in RAW format, but in matrix format, which is necessary to analyze the data, this could reach 30 Gb. Thus, reduction to only those mass channels that contain information is a common practice. This step actually involves several procedures:
1.

Peak picking. We fit each peak to a polynomial of order 5 and we fix the maximum peak width to 0.04 mDa when a resolution of 30,000 is used and to 0.02 mDa when resolution is set to either 60,000 or 100,000.

 

2.

All the spectra must be aligned. That means to correct for the small jitter in m/z between spectra, so every species appears in the same m/z value in all the spectra of the experiment. Our experience says that the Xiong algorithm [8] does a good work.

 

3.

Usually the experiment spectra along the whole sample needs to be normalized, in order to get rid of artifacts due to the ion suppression and to correct small changes in matrix deposition or laser power or other sources of random variations (see Note 15 ).

 

4.

Filtering of the peaks due to noise or undesired species. It changes between experiments, but we use to filter peaks below 0.5% of the strongest peak in each spectrum. To eliminate the peaks due to the matrix or to matrix fragments, we create a list of m/z to be ignored during data import.

 
3.6.2

Identification of Species

In positive-ion mode, it is necessary to take care of the variations in the Na

+

/K

+

ratio. Otherwise their variation between samples will introduce a statistical noise that very often masks other changes, such as those produced by a disease [

9

]. This is a very difficult issue, as it involves identification of all the species in the spectrum. If a given species cannot be identified, then it must be removed from the analysis.
1.

Identify all possible species in the average mass spectrum of each cluster.

 

2.

If a mass-channel may contain contribution from several species, the Na+/K+ ratio for the lipid class must be determined, using those species whose adducts do not overlap with any other species. For example, phosphatidylcholine (PC) 32:0 and 32:1 are good candidates to determine the ratio for PC lipid class. The ratio is assumed that holds for all the species of a given lipid class, and it is used to deconvolve the contributions from the different species.

 

3.

Add the intensity of those peaks corresponding to different adducts of a given species to a single variable (species). For example, if PC 32:0 is detected as H+, Na+, and K+ adducts, add together the intensity of the three mass-channels to the variable PC 32:0. The rest of the analysis is then carried out with the variables created this way.

 
3.6.3

Analysis of Lipid Fingerprints

Usually, tissue sections contain several different histological regions. Depending on the type of study, lipid fingerprints are analyzed in different ways.
1.

In comparative studies, such as the lipid fingerprint of the different anatomic areas of a rat sciatic nerve, use of clustering algorithms is the most popular procedure. The algorithm groups the spectra according to their lipid fingerprint, forming clusters of lipids. If the experiment was carried out correctly, the histology of the sample should be easily recognized in those clusters. If the software used allows it, it is better to make a multi-experiment clustering. If all the sections are divided in similar regions and those regions are grouped together by the algorithm across different samples, the classification achieved is robust and the differences are larger than the interindividual variations.

 

2.

When the goal is to map the alterations produced by a given disease, it is necessary to do as many comparisons as anatomic areas were encountered in the section. In the particular case of sciatic nerve at 25 μm resolution, three clear and distinctive areas were identified: the adipose tissue surrounding the nerve, the connective tissue that protects the fibers, and the fibers. To highlight changes introduced in the lipid expression by a disease, the analysis of each anatomic area must be carried out independently using multivariate analysis, such as Principal Components Analysis (PCA), or Analysis Of the Variance (ANOVA).

 

3.

For multivariate analysis, PCA, to avoid that the most abundant species may mask the influence of other less abundant ones, it is necessary to standardize the changes in lipid species between samples subtracting the average intensity and dividing by the standard deviation to get an average intensity of 0 and standard deviation of 1. Also, the species that present larger standard deviations than their average intensity must be removed from the analysis, as they show excessive variability.

 
4

Notes
1.

When dealing with complex biological materials, extraction of lipids and their separation from interfering agents is highly recommended. However, extreme care must be taken to prevent degradation and oxidation of lipids and introduction of contaminants, and to secure maximal recovery. For lipid extraction, we use glass materials (tubes, caps, Pasteur pipettes, and LC vials) that are treated o/n with chromic mixture (to 1 L distilled water, add 1 L sulfuric acid and 10 g potassium dichromate), and then rinsed thoroughly and dried. Handling the tissue at 4 °C and storing lipid extracts under nitrogen atmosphere is also routinely conducted in our laboratory.

 

2.

Lipid standards are added to each tube before lipid extraction. Deuterated lipids or non-natural lipids are good options (Avanti Polar Lipids). Our experience says that the proportion of standards/sample must be determined in preliminary experiments. Following the procedure detailed here, excellent efficiency of extraction is achieved, near 100% for glycerolipids, glycerophospholipids (including lipoderivatives and plasmalogens), cerebrosides, steryl esters, and sphingolipids. For global lipidomics, the method here annotated works well. If you are interested in targeted lipidomics, you may think of other options.

 

3.

There is the possibility of using the upper polar phases as the source of polar lipids, such as gangliosides or phosphorylated phosphatidylinositols. Instead, we would advise to use a specific extraction procedure.

 

4.

The order of injection of the study samples is randomized to minimize the effect of the instrumental drifts during sample measurement. These samples are analyzed after the three injections of blank samples to test for any possible contamination or carryover and 15 injections of QCsys for the conditioning of the system and a QC. The rest of QC are injected regularly every five to ten samples, depending on number of study samples, through the run to monitor the sensitivity and the stability of the UHPLC-ESI-TOF-MS platform . Finally, a QC, a QCsys, and a blank are injected at the end of the run.

 

5.

The injection volume is adjusted as not to saturate the signal and may vary between 1 and 7.5 μL.

 

6.

Automatic detection of features by XCMS (characterized by unique m/z ratio and retention time) is a crucial step and has to be reliable in order to detect as many ions as possible and minimize false positives from these complex high-resolution raw data. The data processing workflow: features are filtered according to the following criteria: (i) the coefficients of correlation between dilution factors of QC samples (by factors of 1, 2, 4 and 8) and areas of chromatography peaks (above 0.8), (ii) the coefficients of variation of areas of chromatography peaks related to features detected in QC samples (less than 30%), and (iii) the ratio of chromatographic areas of biological to blank samples (more than a factor of 1.5 min). Features are then annotated using a spectral database on the basis of exact masses and retention windows specific to each lipid family. Each lipid species detected by XCMS and its eventually fragment and adduct ions must be eluted at the same retention time as that of the pseudo-molecular ion (with a tolerance of ±5 s, and ±10 s after the fusion of the two peak tables obtained in positive- and negative-ion mode).

 

7.

In large-scale lipidomic profiling studies, to correct the intensity drop derived from contamination or dirty of ion source components of the mass spectrometer a correction factor is applied, obtained from the regression curve of the signal of each feature in the QCsamples against the injection order. Many different algorithms and methods are available for signal drift correction [10, 11, 12].

 

8.

He, Ar, or any other inert gas may be used instead of nitrogen, as long as they prevent lipid oxidation and formation of frost on top of the tissue.

 

9.

We usually store each section in a falcon tube filled with N2. In this way, to bring the section to room temperature we simply take it from the refrigerator and leave it resting on a table until it is at room temperature. If the sample is exposed to the laboratory environment, water may condense on the surface, perturbing matrix deposition and not allowing for a uniform deposition.

 

10.

When the sample is so large that the whole area cannot be scanned, we found most useful to have a consecutive tissue section stained with, for example, hematoxylin-eosin to navigate the sample and to locate more easily the anatomic areas of interest. Also, that image can be used afterwards to correlate the lipid distributions with the anatomic areas of the sample, if for any reason, staining of the section used could not be carried out. For very high resolutions, it is even a good idea to record the optical image of the face that was in contact with that of the section to be scanned by MALDI-IMS. In that way identification of the anatomic areas or even the cells is significantly easier.

 

11.

Our experience says that keeping the vacuum running during sublimation allows one to reach a more uniform sample deposition and smaller crystals. Also, the threshold amount of matrix required for the experiment should be deposited. A too thick matrix deposit will kill the signal, while too little will result in signal loss during scanning. The matrix deposited this way easily sublimates during acquisition. We have observed that, in the vacuum conditions of our spectrometer, a minimum of 0.10 mg/cm2 is required for an acquisition time of ~180 min. In case of DAN, extra caution is required, as the tolerance in the g/cm2 of matrix deposited is tighter than in the case of MBT. Other matrices may require different sublimation times, temperatures, and/or deposition densities. Nevertheless, so far MBT and DAN are the two matrices that worked better for us and they allow for detection of most of the lipid species, except for cholesterol.

 

12.

Another factor to take into account is that the laser enters the spectrometer through a window that gets dirty during scanning, and that has to be cleaned frequently. Also, as dirt deposits on the window the amount of laser required for ion desorption has to be increased. With a clean window, less than 10 μJ/pulse, with MBT, or 20 μJ/pulse, with DAN, are required. When laser power above ~40 μJ/pulse is required, the window needs cleaning.

 

13.

Despite the large size of the laser spot, pixel sizes of ~5 × 5 μm2 can be achieved, provided that the matrix is completely consumed at each pixel. For that purpose, it is very important to select the adequate combination of laser power and matrix density deposition. The best results are obtained with the minimum amount of matrix deposited on the tissue. However, once more, the scan time has to be taken into consideration: long scanning times will result in a progressive loss of matrix by sublimation and therefore signal intensity will change during the experiment.

 

14.

In case that the mass analyzer does not allow to reach high-enough resolution to ensure that there is no overlap between peaks, it is still possible to discriminate between isobaric species recording the spectra of the fragments of the m/z of interest. However, this procedure is slow and only allows recording the image of the fragments of a single m/z in each section and therefore it is usually employed for very relevant species.

 

15.

Normalization is by no means a closed issue in IMS experiments. The most commonly used algorithm normalizes the total ion current (TIC) of each spectrum, but this may also cause artifacts under certain circumstances. If sample preparation was done correctly and the scan time was not very long, I would personally recommend avoiding normalization or at least generate the images with and w/o normalization. Despite the most used normalization procedures are TIC or use a reference mass channel (Labelled), other less commonly used algorithm are Median, Noise level, or Vector-Norm, which is the same as TIC for V = 1. It is a good practice to decide at the very beginning of the study which one fits best in your case.

 
Notes
Acknowledgments
Work in the lab of the authors was funded by grants from the Basque Government (IT-971-16 and KK2016-00036 to BO) and the Spanish Ministry of Innovation, Economy and Competitiveness (SAF2015-64352 to BO and RTC-2015-3693-1 to JAF and BO). Technical and human support provided by the Servicio de Lipidómica of the SGIKER (UPV/EHU, MICINN, GV/EJ, ESF) is gratefully acknowledged. JG thanks the UPV/EHU for a pre-doctoral fellowship.
Copyright information
© Springer Science+Business Media, LLC, part of Springer Nature 2018