Abstract
Adam Buck's 1787 portrait of the Edgeworth family reflects a scene of literary sociability that lies at the heart of this book (
Figure I.1
). It depicts a large family, of various ages and genders, who gather round a large script prominently on display in the foreground.
1
From what we know of the Edgeworths' writing habits, it seems likely that Richard Edgeworth is conversing with his daughter Maria about a manuscript that they are jointly composing. The portrait does not, however, merely reflect the literary lives of the Edgeworths, but common practices of literary production which, though in many respects traditional ones, were poised on the brink of significant change. For the expanding print marketplace of the late eighteenth century provided families with unprecedented capacity to publicize their works: the Edgeworths, for example, would within a few short years be sending their manuscripts to the printer, and would soon thereafter write directly for print. This conjunction of authorship and family life, though rarely discussed on its own terms, has a great deal to tell us not only about the material practices of Romantic-era literary culture, but also about the ways in which print transformed the lives of writing families.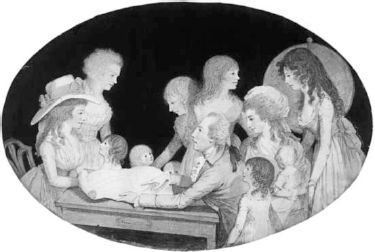 Keywords
Eighteenth Century 
Literary Production 
Romantic Period 
Book Trade 
Late Eighteenth Century 
These keywords were added by machine and not by the authors. This process is experimental and the keywords may be updated as the learning algorithm improves.