Abstract
Jury trial unfolds in a specific formal setting — the courtroom — which has a profound effect on the nature of legal-lay discourse. The aim of this chapter is to provide an essential orientation to courtroom communication and to the receivers (jurors, witnesses, defendants) and observers (the researcher) of legal-lay discourse. Figure 2.1 illustrates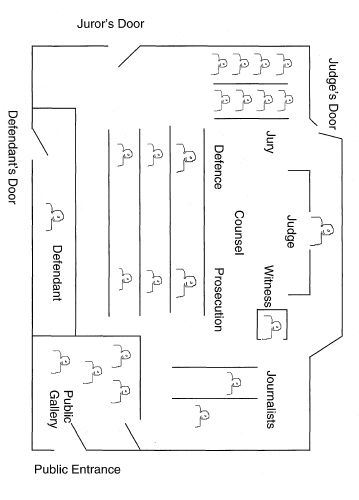 the entrances and seating arrangements of a typical Crown Court in England and Wales, based on the Queen Elizabeth II courts in Birmingham, where most of the ethnographic research for this study was undertaken.
1
Keywords
Legal Professional 
Jury Trial 
Discourse Marker 
British National Corpus 
Participation Role 
These keywords were added by machine and not by the authors. This process is experimental and the keywords may be updated as the learning algorithm improves.