The Influence of Molecular Variables on Fatigue Resistance in Stress Cracking Environments
Part of the Advances in Polymer Science book series (POLYMER, volume 188)
Abstract
The increasing economic importance of the polymer industry is responsible for a growing interest in the prediction of the lifetime of polymers. Although the influence of molecular parameters on the fatigue resistance in polymers has been intensively addressed, little work has been devoted to the same topic in stress cracking environments. Because of the complexity of the topic, we have studied different cases of mechanical loading, short-time, long-time, static, and dynamic in a stress cracking environment with special attention paid to fatigue, where the polymer is dynamically loaded over a long period. Fatigue crack propagation experiments can be employed as a fast and effective method for determining the long-term mechanical properties of polymers. We have particularly studied the effect of molecular weight, chain regularity, medium parameters, and processing and treatments on fatigue resistance. Special attention is also paid to the existing environmetal stress cracking prevention methods. We present an overview of the existing work and also our personal contribution to the field.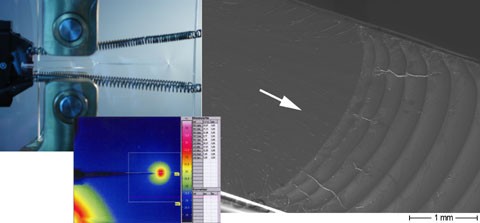 Environmental stress cracking 
Fatigue crack growth 
Molecular variables 
Abbreviations
a0

length of precrack

ABS

acrylonitrile butadiene styrene

ACETOPH

acetophenone

ACI

acetone

b

semiminor axis

BCN

butyl acetate

C

compliance

CED

cohesive energy density

COD

crack opening displacement

CT

compact tension

d

sample thickness (CT-specimen)

ΔEVAP

heat of vaporization

ΔK

stress intensity factor amplitude

ΔKth

threshold value of ΔK

ΔKc

critical value of ΔK

dP/dx

pressure gradient

Edyn

dynamic elastic modulus

EP

epoxy resin

ESC

environmetal stress cracking

ESCR

environmental stress cracking resistance

F

force

FCP

fatigue crack propagation

Fm

molar attraction constant

GIc

energy per unit area of crack

HIPS

high-impact polystyrene

IPA

isopropyl alcohol

k

Darcy's constant

KIc

critical stress intensity factor

M

molecular weight

MWD

molecular weight distribution

N

number of cycles

NMR

nuclear magnetic resonance

PA

polyamide

PC

polycarbonate

PE

polyethylene

PE-HD

high-density polyethylene

PE-LD

low-density polyethylene

PE-LLD

linear low-density polyethylene

PMMA

polymethylmethacrylate

PP

polypropylene

PS

polystyrene

PTFE

polytetrafluoroethylene

PU

polyurethane

PVC

polyvinylchloride

PVDF

polyvinylidene fluoride

R

stress ratio

S/N

stress versus number of cycles

SAN

styrene acrylonitrile

SCC

stress corrosion cracking

SEM

scanning electron microscopy

t

specimen thickness

tfl

failure time in Igepal solution

T

temperature

TCB

trichlorobenzene

Tg

glass-transition temperature

U/MMA

urethane methacrylate

UHMWPE

ultra-high-molecular-weight polyethylene

VE

bisphenol-vinylester resin

Vm

molar volume

W

ligament length

X

distance along semimajor axis to point of interest

δ

Hildebrand solubility parameter

ε

elliptical rig

εCR

critical strain value

μ

liquid viscosity
Notes
Acknowledgments
The author gratefully acknowledges the fruitful discussions with Henning Kausch and Falko Ramsteiner. In addition, the supply of experimental data on PMMA by Frank Fischer and the help in preparing the manuscript by Sandrine Müller, Eva Bittmann, and Jan Sandler are acknowledged. Thanks are due to BASF AG and Röhm GmbH und Co KG for supplying the materials.