Deformation, Yield and Fracture of Amorphous Polymers: Relation to the Secondary Transitions
Part of the Advances in Polymer Science book series (POLYMER, volume 187)
Abstract
This paper deals with the mechanical properties (plastic deformation, micromechanism of deformation, fracture) of various amorphous polymers: poly(methyl methacrylate) and its maleimide and glutarimide copolymers, bisphenol A (and/or tetramethyl bisphenol A) polycarbonate, and aryl-aliphatic copolyamides. First, the required background on molecular characteristics, micromechanisms of deformation and fracture characterisation is recalled. Then, the results are discussed for each polymer series, considering information obtained on the motions involved in secondary transitions (mostly β transitions) analysed in a previous paper. The importance of the cooperative motions occurring in the high temperature part of the transition is unambiguously pointed out. Furthermore, in glutarimide copolymers, as well as in aryl-aliphatic copolyamides, it is shown that the dependence of toughness on the entanglement density fails and only the consideration of cooperative β transition motions can consistently account for the results. Finally, concerning the change of strain softening with increasing temperature, two opposite behaviours are observed for polymers in which β transitions result, on the one hand from side-group motions (strain softening decreases) and on the other hand from certain main-chain units (strain softening increases). Two different mechanisms have been proposed, based on a softening of the polymer medium by β transition motions associated with either an intramolecular cooperativity (in the first case), or an intermolecular cooperativity (in the second case) of these motions. Thus, combination of the results of the analysis of the relation of chemical structure to β transition motions with the present conclusions yields a molecular description of the whole set of behaviours involved in the mechanical properties of amorphous polymers, till fracture.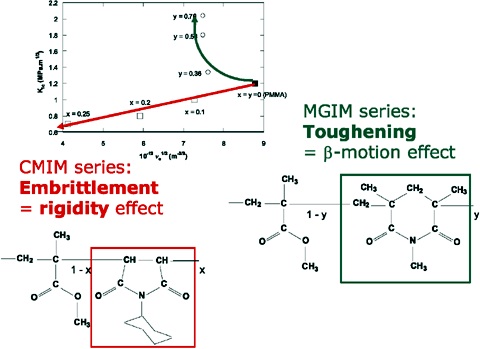 Mechanical properties 
Plastic deformation 
Poly(methyl methacrylate) 
Methyl methacrylate-co-N-cyclohexyl maleimide copolymer 
Methyl methacrylate-co-N-methyl glutarimide copolymer 
Bisphenol A polycarbonate 
Tetramethyl bisphenol A polycarbonate 
Aryl-aliphatic copolyamides 
Notes
Acknowledgments
The authors are greatly indebted to the PhD students B. Brûlé, O. Julien, L. Tézé and P. Tordjeman, and to their colleagues P. Béguelin, L. Canova, S. Choe, A.M. Donald, A. Dubault and C.J.G. Plummer for their fruitful collaboration.