Abstract
In the past two decades, researchers have determined that the right ventricle (RV) plays an important role in normal and abnormal hemodynamics [2]. In addition, diseases that affect the right ventricle can adversely affect the left ventricle (LV), and may lead to heart failure. As in the LV, several types of RV disease, such as ischemia and hypertrophy, alter the normal motion and deformation of the RV free wall and septum. Furthermore, since the RV pumps blood into the pulmonary circulation, abnormalities of the lung can adversely affect the motion of the RV As several diseases may adversely affect the motion of the RV, a method that quantifies abnormal RV kinematics may be useful in detecting the presence and severity of such diseases. In this chapter, we describe methods for modeling the RV geometry, extracting RV motion from MRI images using a computer vision/image analysis technique called deformable modeling, and analyzing these results using techniques from mechanics.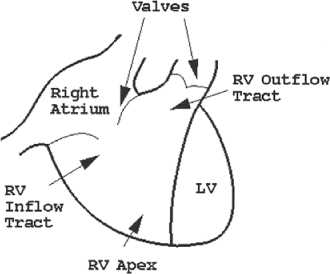 Keywords
Left Ventricle 
Right Ventricle 
Free Wall 
Deformable Model 
Right Ventricular Hypertrophy 
These keywords were added by machine and not by the authors. This process is experimental and the keywords may be updated as the learning algorithm improves.
Copyright information
© Kluwer Academic Publishers 2001