Abstract
Two experiments carried out recently at M.I.T. gave results which bear on the problems of extragalactic X-ray sources. One of these is the work of a group under the direction of Hale Bradt (Bradt
et al.
, 1967), who used an attitude-controlled Aerobee rocket to scan a portion of the sky which included the radio galaxy M 87 (Virgo A). Among their detectors were two banks of argon-filled, 2 mil beryllium window proportional counters, each with an effective area of 350 cm
2
and a mechanical collimator giving a 2°×20° FWHM field of view. The fields of view were crossed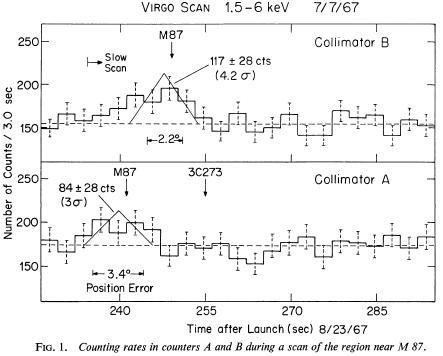 so that their long directions made an angle of 60° with one another. Aspect was determined to within 5 min of arc by star photography.
Keywords
Coma Cluster 
Radio Galaxy 
Proportional Counter 
Crab Nebula 
Virgo Cluster 
These keywords were added by machine and not by the authors. This process is experimental and the keywords may be updated as the learning algorithm improves.