Abstract
The term acute tubular necrosis was introduced in 1950 to describe the clinical syndrome of ARF following a great variety of clinical events (Table 2). On pathological examination the kidneys are enlarged and the parenchyma bulges through the cut capsule. The cortex appears pale, but the medulla is darker than usual. Histologically, the glomeruli are normal but the tubules show some dilatation and flattening of their cells. Casts may be present in the distal tubules, and interstitial oedema is sometimes prominent. Regeneration of tubular cells, with frequent mitoses, is seen during recovery.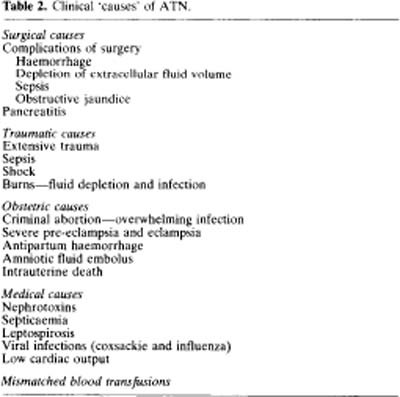 Keywords
Peritoneal Dialysis 
Chronic Renal Failure 
Disseminate Intravascular Coagulation 
Disseminate Intravascular Coagulation 
Fluid Overload 
These keywords were added by machine and not by the authors. This process is experimental and the keywords may be updated as the learning algorithm improves.