Abstract
Significant progress has been made in the development of different types of nucleic acids, including plasmid DNA, siRNA and oligonucleotides with the potential to form the basis of new treatment options for genetic and acquired diseases. However, the lack of suitable vectors for efficient delivery of nucleic acids into target cells represents a major hurdle for the successful application of gene therapy.
Since they were first described by Felgner et al. in the late 1980s, cationic liposomes have been considered one of the most promising carriers for nucleic acid delivery to mammalian cells in vitro and in vivo. Nevertheless, cationic liposomes suffer from relatively low levels of gene expression, thus the drive to improve these vectors continues.
Here, we describe crucial physicochemical parameters of cationic liposome-based systems that modulate their biological activity. Moreover, we provide an overview of different strategies that have been explored to surpass cellular barriers towards improving the efficacy of these systems to mediate nucleic acid delivery and therapeutic activity. Finally, examples illustrating the application of cationic liposome-based systems in clinical trials are presented.
Graphical Abstract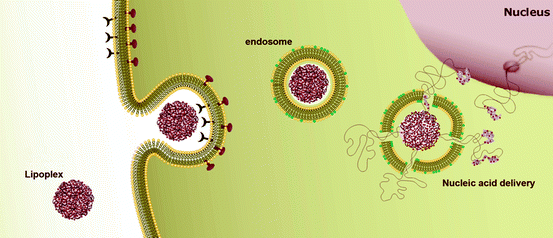 Keywords
Nucleic acid delivery 
Cationic liposomes 
Lipoplexes 
Gene therapy 
Targeting ligands 
Personalized medicine 
Abbreviations
5-FC

5-fluorocytosine

AD

Atopic dermatitis

Apo B

Apolipoprotein B

ASO

Antisense oligonucleotide

BBB

Blood brain barrier

BCR-ABL

Break cluster region-Abelson

CD

Cytosine deaminase

CD4+ T lymphocytes

T lymphocytes expressing the cluster differentiation 4

CD8+ T lymphocytes

T lymphocytes expressing the cluster differentiation 8

CF

Cystic fibrosis

CFTR

Cystic fibrosis transmembrane conductance regulator

Chol

Cholesterol

c-myc

Myelocytomotosis oncogene

CNS

Central nervous system

CpG

Cytosine-phosphate-guanine motifs

CPP

Cell-penetrating peptide

ctDNA

Calf timus DNA

DC-Chol

3ß-[N-(N′,N′-dimethylaminoethane)-carbamoyl] cholesterol

DLS

Delivery liposomal system

DMPE-PEG5000

Dimyristoylphosphatidylethanolamine-polyethylene glycol5000

DMRIE

1,2-dimyristyloxypropyl-3-dimethyl-hydroxy ethyl ammonium bromide

DMTAP

Dimyristoyl 1,2-diacyl-3-trimethylammonium-propane

DOGS

Dioctadecyl amino glycyl spermine

DOPE

1,2-dioleoyl-sn-glycero-3-phosphoethanolamine

DOSPA

2,3 dioleyloxy-N-[2[sperminecarboxaminino]ethyl]-N,N-dimethyl-1-propanaminium trifluroacetate

DOTAP

1,2-dioleoyl-3-trimethylammonium-propane

DOTIM

Octadecenoyloxy[ethyl-2-heptadecenyl-3-hydroxyethyl] imidazolinium chloride

DOTMA

2,3-bis[oleyl]oxipropyltrimethylammoniumchloride

DSPE

1,2-distearoyl-sn-glycero-3-phosphoethanolamine

EBV

Epstein-Barr virus

EGFR

Endothelial growth factor receptor

ePC

Egg yolk phosphatidylcholine

EPOPC

1-palmitoyl-2-oleoyl-sn-glycero-3-ethylphosphocholine

eSph

Egg yolk sphingomyelin

FA

Folic acid

FR

Folate receptor

GCV

Ganciclovir

HA2

Hemagglutinin subunit 2

HBV

Hepatitis B virus

HER-2/neu

Human epidermal growth factor receptor 2 proto-oncogene

HIV-1

Human immunodeficiency virus type 1

HSA

Human serum albumin

HSV-tk

Herpes simplex virus-tymidine kinase

hTR

Human telomerase RNA component

HVJ

Hemagglutinating virus of Japan

IC50

Half maximal inhibitory concentration

IFN-α

Interferon-alpha

IFN-β

Interferon-beta

IFN-γ

Interferon-gamma

IL-12

Interleukin-12

IL-13

Interleukin-13

IL-18

Interleukin-18

IL-4

Interleukin-4

LMO2

LIM domain only 2

LPS

Lipopolysaccharide

MAbs

Monoclonal antibodies

Man-liposomes

Mannosylated liposomes

md-LErafAON

Modified formulation of antisense oligonucleotide targeting Raf-1

MDM2

Murine double minute oncogene

MEND

Multifunctional envelope-type nanodevices

MIP-1β

Macrophage inflammatory protein-1β

miRNA

microRNA

mRNA

Messenger RNA

NFκB

Nuclear factor kappa-light-chain-enhancer of activated B cells

NK

Natural killer

ON

Oligonucleotide

PC

Phosphatidylcholine

pDNA

Plasmid DNA

PEG

Polyethylene glycol

Raf-1

Proto-oncogene serine/threonine-protein kinase

RNAi

RNA interference

shRNA

Short hairpin RNA

siRNA

Small interference RNA

SNALPs

Stabilized nucleic acid lipid particles

SSO

Splice-switching oligonucleotide

SV40

Simian vacuolating virus 40

Tf-lipoplexes

Transferrin-associated lipoplexes

TfR

Transferrin receptor

THL

Trojan Horse liposomes

TIL

Tumor infiltrating lymphocytes

TNF-α

Tumor necrosis factor-alpha

TSA

Mouse mammary adenocarcinoma

UCL

Ultradeformable cationic liposomes

VEGF

Vascular endothelial growth factor
Notes
Acknowledgments
The authors wish to thank Pedro Carvalho for the artwork included in this chapter.
Copyright information
© Springer Science+Business Media Dordrecht 2013