Early Diagnosis of Supratentorial Tumors
Abstract
Despite the use of modern neuroradiological tests, prefrontal tumors (those involving the part of frontal lobe located anteriorly to the ascending frontal gyrus) are rarely diagnosed at an early stage (Figs. 1–10). We often see the clinical-radiological picture of a voluminous lesion with manifest symptoms. Involvement of the frontal lobe is a serious situation and can greatly affect both the possibility of radical surgery and prognosis quod valetudinem. Hence early diagnosis is a necessity. Symptoms due to a frontal tumor frequently consist of the so-called frontal psychorganic syndrome. This is a psychopathic condition characterized by a triad of symptoms: disorders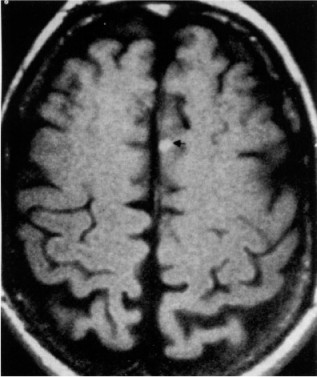 of mood and character, disorders of activity and behavior, and intellectual disorders.
Keywords
Visual Field Defect 
Dominant Hemisphere 
Homonymous Hemianopia 
Supratentorial Tumor 
Frontal Tumor 
These keywords were added by machine and not by the authors. This process is experimental and the keywords may be updated as the learning algorithm improves.
Copyright information
© Springer-Verlag Italia, Milan 2002