Proportional Assist Ventilation: Technique and Implementation
Abstract
Proportional Assist Ventilation (PAV) is a form of partial ventilatory support with which the ventilator delivers pressure assist in proportion to instantaneous patient effort (Fig. 1). With PAV, the pressure delivered by the ventilator increases during inspiration so long as patient's effort is increasing. When the patient's effort ceases at the end of inspiration the pressure also decreases leading to a decrease in inspiratory flow and termination of the cycle (Fig. 1). If the patient makes a stronger effort, he/she receives more pressure support, and vice versa (Fig. 1). The main advantages of this approach, therefore, are the assured synchrony between the end of patient's inspiratory cycle and ventilator cycle and ability of the ventilator to adjust automatically the level of assist in response to changes in patient ventilatory demand. These technical advantages are expected to have some positive clinical implications [1, 2] although these clinical advantages are yet to be confirmed experimentally.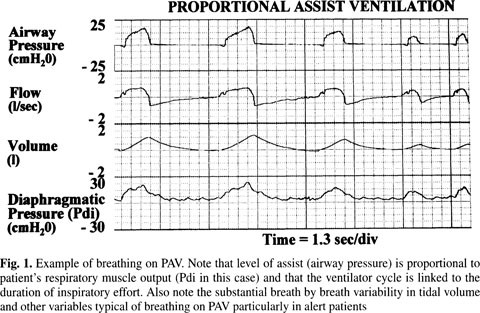 Keywords
Tidal Volume 
Respir Crit 
Respiratory Mechanic 
Inspiratory Effort 
Status Asthmaticus 
These keywords were added by machine and not by the authors. This process is experimental and the keywords may be updated as the learning algorithm improves.
Copyright information
© Springer-Verlag Italia 1999