The Spectrum of Non-accidental Injuries (Child Abuse) and Its Imitators
Abstract
Skeletal injuries are the most common findings noted on imaging studies in cases of child abuse. In infants (<1 year), they result from manual assault that may include shaking. In contrast to central nervous system and other visceral injuries, they are rarely life-threatening. However, documentation of skeletal trauma is often central to the diagnosis of abuse. In infants, certain lesions are sufficiently characteristic to point strongly to the diagnosis of inflicted trauma (
Table 1
). Other fractures are less specific for abuse, but when correlated with other imaging findings and clinical information their presence may add strong support for the diagnosis.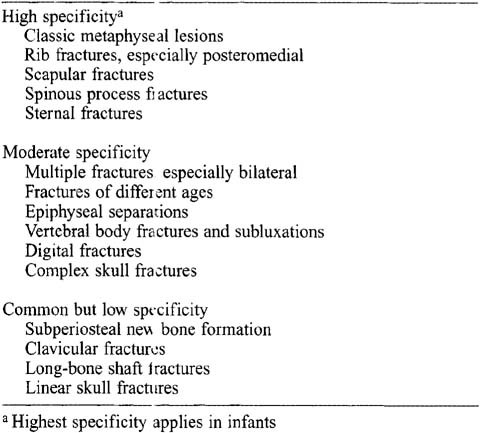 Keywords
Child Abuse 
Osteogenesis Imperfecta 
Skeletal Survey 
Birth Injury 
Classic Metaphyseal Lesion 
These keywords were added by machine and not by the authors. This process is experimental and the keywords may be updated as the learning algorithm improves.
Copyright information
© Springer-Verlag Italia 2009