Abstract
Because the diaphragm in the fetus is at a higher level within the chest, making the heart more horizontal than it is after birth, the four-chamber view of the heart lies closer to a transverse section of the fetal thorax just above the diaphragm (
Fig. 7.1
) [
1
]. This view is easily obtained from a transverse plane of the upper abdomen by tracing the inferior vena cava to the right atrium and then angling the transducer slightly cranially until the four chambers are visualized.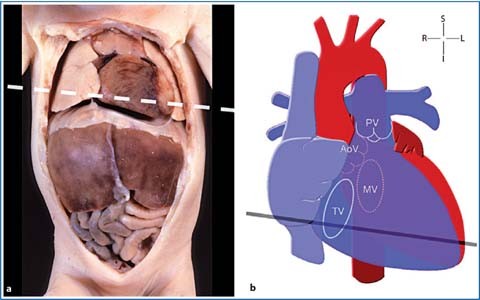 Keywords
Mitral Valve 
Pulmonary Vein 
Left Atrium 
Tricuspid Valve 
Tricuspid Regurgitation 
These keywords were added by machine and not by the authors. This process is experimental and the keywords may be updated as the learning algorithm improves.
Copyright information
© Springer-Verlag Italia 2008