Abstract
The ATLAS detector [
1
] is a high energy physics experiment designed to exploit the full physics potential provided by the Large Hadron Collider (LHC), which will provide
pp
collisions at a centre-of-mass energy of 14TeV and a luminosity of 10
34
cm
−2
s
−1
. The corresponding 40 MHz bunch crossing rate, the huge amount of detector channels (∼ 10
8
) and a storage data flux of about 300MB/s outline the challenge of the Trigger and Data Acquisition (TDAQ) system: select every second the most interesting hundred events out of millions. The TDAQ system is organized in three different trigger levels (Fig. 1). The first one (LVL1), realized in hardware by custom electronics, reduces the data rate from the 40 MHz collision rate to about 75 kHz. The High Level Triggers (LVL2 and Event Filter) [
2
], implemented on two different commodity component farms, provide a further reduction factor of ∼ 10
3
. The LVL2 operates on the full granularity data inside Regions of Interest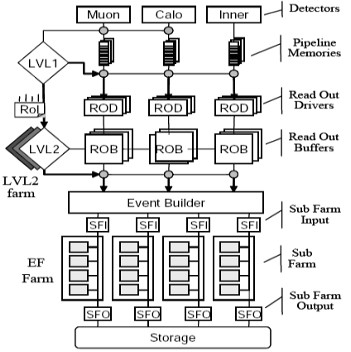 (RoIs) identified by LVL1 and it reduces the event rate down to ∼ 2 kHz. For events accepted by LVL2, the full event data is assembled by the Event Builder system (EB) and shipped to the EF which performs the last selection (a rejection of a factor ∼ 10) with a latency of the order of a second.
Keywords
Large Hadron Collider 
Fault Tolerance 
Atlas Collaboration 
Atlas Detector 
Event Filter 
These keywords were added by machine and not by the authors. This process is experimental and the keywords may be updated as the learning algorithm improves.
Copyright information
© Springer-Verlag Italia 2007