A Report on CMTGIM 2012, Manipal
International Workshop and Conference on Combinatorial Matrix Theory and Generalized Inverses of Matrices 02–07 & 10–11 January 2012 Department of Statistics, Manipal University, Manipal, India
About Workshop and Conference
Objective of the Workshop
The objective of the workshop was to provide a platform for the young generation to have an exposure to lectures from leading mathematicians in the area of Combinatorial Matrix theory and Generalized inverses and its Applications. Apart from tutorial lecture on these topics, organizers' intention was to provide an exposure to all participants with allied linear algebra topics through some special lectures. To meet these objectives, several tutorial lectures, special lectures, formal and informal discussion hours were arranged. An environment for young scholars to interact with leading mathematicians was also created on and off the venue.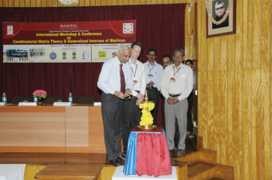 Keywords
Generalize Inverse 
Laplacian Matrix 
Assignment Game 
Algebraic Connectivity 
Central Statistics Office 
These keywords were added by machine and not by the authors. This process is experimental and the keywords may be updated as the learning algorithm improves.