Abstract
Hypotrichosis or atrichosis is a heterogeneous group of diseases with the majority being idiopathic (
Fig. 1
) [
1
,
2
,
3
,
4
,
5
]. These diseases, common in Mongolian women but rare in Caucasian women, often cause the patient psychological problems such as low self-esteem and consequent social withdrawal [
6
]. Surgical treatment may help the patient in recovering their mental health [
7
,
8
]. Before the surgical procedure, the patient's expectations and the transplant hairline design should be identified.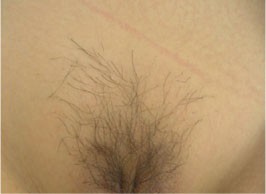 Keywords
Hair Growth 
Allergic Contact Dermatitis 
Scalp Hair 
Pubic Hair 
Recipient Site 
These keywords were added by machine and not by the authors. This process is experimental and the keywords may be updated as the learning algorithm improves.