Recent Progress on Paired Immunoglobulin-Like Receptors
Abstract
Almost 10 years ago the Takai and Kubagawa laboratories independently identified the paired immunoglobulin-like receptors (PIRs) in mice based on limited homology with the human Fcα receptor/CD89 (
Hayami et al. 1997
;
Kubagawa et al. 1997
). Two PIR isoforms were identified on the basis of their signaling properties as activating (PIR-A) and inhibitory (PIR-B) types.
Pir
is a multigene family located on the proximal end of mouse chromosome 7 (
Kubagawa et al. 1997
;
Tun et al. 2003
;
Yamashita et al. 1998a
), in a region syntenic with the human chromosome 19q13 where a cluster of structurally related gene families called the leukocyte receptor complex resides. Among these human genes are the closest PIR homologs, the immunoglobulin (Ig)-like transcripts (ILTs) [also called leukocyte Ig-like receptors (LIRs), monocyte/macrophage Ig-like receptors or CD85; see the new LILR nomenclature at www.gene.ucl.ac.uk/nomenclature/genefamily/lilr.html] (
Arm et al. 1997
;
Barten et al. 2001
;
Colonna et al. 1999
;
Cosman et al. 1999
;
Long 1999
;
Martin et al. 2002
;
Wagtmann et al. 1997
). Paired immunoglobulin-like receptor-A and PIR-B are cell surface glycoproteins with very similar extracellular regions (>92% homology) containing six Ig-like domains, but with structurally and functionally distinct transmembrane and cytoplasmic regions (see
Fig. 1
). There are multiple PIR-A isoforms (>6), each encoded by a different
Pira
gene. Paired immunoglobulin-like receptor-As associate non-covalently with the Fc receptor common γ chain (FcRγc), a transmembrane signal transducer that contains immunoreceptor tyrosine-based
activation
motif (ITAM) "D/ExxYxxL/Ix
6–8
YxxL/I" (single amino acid code, where x represents any amino acid) in the cytoplasmic tail, to form a cell activation complex (
Kubagawa et al. 1999a
;
Maeda et al. 1998b
;
Ono et al. 1999
;
Taylor and McVicar 1999
).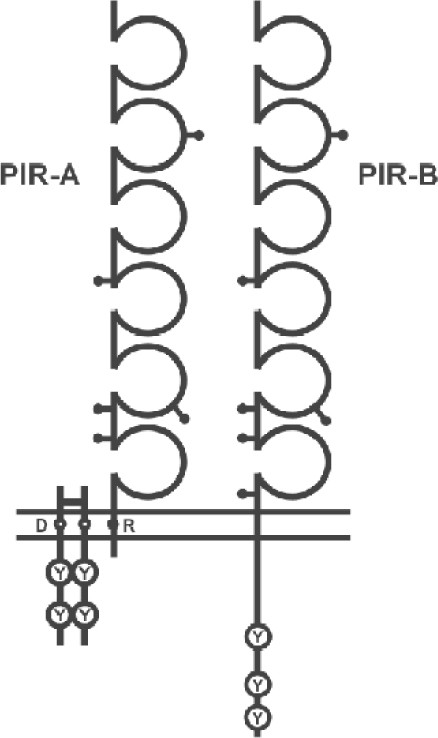 Keywords
Major Histocompatibility Complex Class 
Adult Bone Marrow 
Lymphoid Progenitor 
Leukocyte Receptor Complex 
Surface Plasmon Resonance Assay 
These keywords were added by machine and not by the authors. This process is experimental and the keywords may be updated as the learning algorithm improves.