Biased Competition and Cooperation: A Mechanism of Mammalian Visual Recognition?
Abstract
In humans and mammals with higher cognitive capabilities, the neocortex is a very prominent brain structure (
Fig. 1
). As such it seems to be crucially involved in the cognitive processes. The neocortex can be subdivided into a set of functionally different areas (
Van Essen et al. 1992
), and it communicates with most of the other brain systems. It is a structure with a high internal functional complexity and diversity which is involved in most aspects of cerebral processing. Various cortical areas represent and process different aspects of the environment and the subject's internal states in a distributed way. In the visual modality for example, occipital to temporal regions of the brain are thought to mainly represent object identity-related sensory information, whereas occipital to parietal brain regions are thought to mainly represent and process spatial information and aspects preparing motor plans. The former is referred to as the "ventral stream" and the latter as the "dorsal stream" (
Ungerleider and Haxby 1994
Lateral prefrontal areas are thought to store contextual information of the present and recent past, which can serve as a reference framework for the behavioral relevance of visual stimuli and motor plans, and can form a basis for decision- making processes (
Leon and Shadlen 1998
).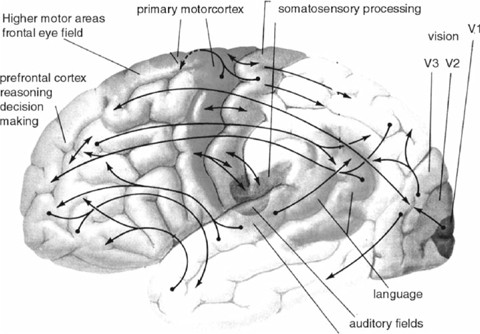 Keywords
Prefer Location 
Visual Working Memory 
Inattentional Blindness 
Attractor Network 
Attentional Facilitation 
These keywords were added by machine and not by the authors. This process is experimental and the keywords may be updated as the learning algorithm improves.