Histoblood Group A and B Transferases, Their Gene Structures, and Common O Group Gene Structures
Abstract
Histoblood group A and transferases are UDP-GalNAc: H-α3GalNAc transferase and UDP-Gal: H-a3Gal transferase, respectively (
Fig. 1
). Depending on the structure of H, four types of A antigen and three types of B antigen have been distinguished. Type-3 chain A, i.e., repetitive A, is present only as a glycosphingolipid in A
1
but not in A
2
-erythrocytes (see Chapter 25). The corresponding "repetitive B" is absent or unknown. Type-4 chain A (globo-A) is also expressed in A
1
but not in A
2
- erythrocytes. Type-4 chain B (globo-B) is not known in erythrocytes; however, both globo-A and globo-B are highly expressed in other organs, particularly kidney and urogenital epithelia. The distribution patterns of these isotypes of A and B antigens, and their patterns during development, have been reviewed (
Hakomori 1981
;
Oriol et al. 1986
;
Clausen and Hakomori 1989
;
Oriol 1995
). In this chapter, only allelic structures of A and B transferases, and the allele for the common O blood group gene, are described. Alleles for variants are described in Chapter 25.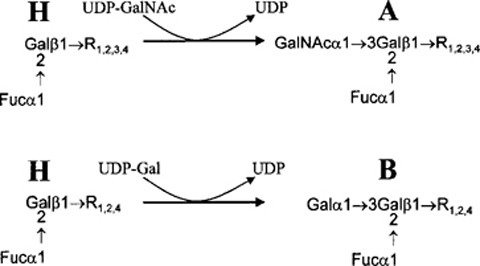 Keywords
Blood Group 
Nucleotide Number 
Gastric Cancer Cell Line MKN45 
Reduce Promoter Activity 
HT29 Colonic Carcinoma Cell Line 
These keywords were added by machine and not by the authors. This process is experimental and the keywords may be updated as the learning algorithm improves.