Vitamin K2 Administration Improves the Prognoses of Patients with Hepatocellular Carcinoma Presenting High Levels of Serum Des-γ-Carboxy Prothrombin
Abstract
Background: Patients with hepatocellular carcinoma frequently develop portal venous invasion, a diagnosis of which affects patient prognosis. We have already shown the close association between the development of portal venous invasion and serum des-y-carboxy prothrombin levels in patients with hepatocellular carcinoma (
Figure 1
) [
1
]. In addition, it has been reported that vitamin K2 administration decreases serum des-y-carboxy prothrombin levels in hepatocellular carcinoma patients and inhibits the proliferation of hepatocellular.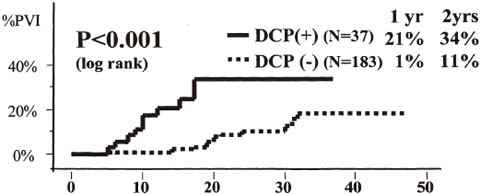 Keywords
Hepatocellular Carcinoma 
Hepatocellular Carcinoma Cell 
Viral Hepatitis 
Tyrosine Phosphorylation 
Cell Growth Inhibition 
These keywords were added by machine and not by the authors. This process is experimental and the keywords may be updated as the learning algorithm improves.
References
Koike Y, Shiratori Y, Sato S, Obi S, Teratani T, Imamura M, et al. Des-y-carboxy prothrombin as a useful predisposing factor for the development of portal venous invasion in patients with hepatocellular carcinoma. Cancer 2001;91:561–569.

PubMed

CrossRef

Google Scholar

Ni R, Nishikawa Y, Can BI. Cell growth inhibition by a novel vitamin K is associated with induction of protein tyrosine phosphorylation. J Biol Chem 1998;273:9906–11.

PubMed

CrossRef

Google Scholar