Clinical results including hemodynamic performance of the Medtronic Mosaic porcine bioprosthesis up to ten years
Abstract
The main advantage of bioprosthetic cardiac valves in comparison to mechanical prosthesis is the lower incidence of antithromboembolic-related hemorrhages. However, bioprostheses have limited durability due to progressive tissue degeneration and calcification resulting in structural valve deterioration (SVD) and suboptimal hemodynamic performances. The Medtronic Mosaic bioprosthesis is a supraannular third-generation stented porcine bioprosthesis which was introduced in 1994. It is built upon the historical durability of the Hancock II valve [
1
] and technical innovations were incorporated into the design in an attempt to improve hemodynamic performance and durability [
2
]. Tissue fixation with the Medtronic Physiologic Fixation
™
process is performed with glutaraldehyde in order to minimize the consequences of antigenicity after porcine valve implantation [
3
]. Furthermore, the valve design includes predilatation of the porcine aortic root and using zero net pressure across the leaflets (
Fig. 1a
) [
4
]. By this treatment, natural leaflet morphology is generally preserved. The tissue is mounted on a low-profile flexible polymer stent (
Fig. 1b
) to minimize hemodynamic disturbance and to make it suitable for patients with small aortic root diameters.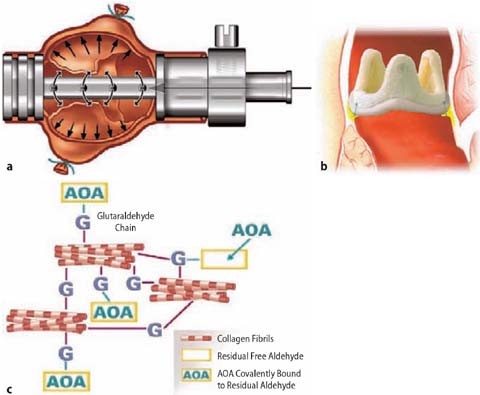 Keywords
After Mosaic Valve Replacement 
Mitral Valve Replacement 
Effective Orifice Area 
Paravalvular Leak 
Hemodynamic Performance 
These keywords were added by machine and not by the authors. This process is experimental and the keywords may be updated as the learning algorithm improves.
Copyright information
© Springer-Verlag Berlin Heidelberg 2010