Clinical results of the Shelhigh® stentless bioprosthesis in patients with active infective endocarditis:
8-year single center experience
Abstract
Despite improvements in medical care, the incidence of left-sided active infective endocarditis (AIE) has remained unchanged over the past few decades. As shown in a review of 26 publications on a total of almost 3800 patients treated between 1993 and 2003, it is reported to affect a median of 3.6–5.4/100 000 persons per year, increasing in individuals over 65 years old to 15.0/100 000 persons per year, with a male:female ratio of 2:1 [
1
]. This unchanging incidence may be explained by changes in both the spectrum of causative organisms and in the patients affected [
2
]. New groups at risk of endocarditis have emerged, for example, the increasingly aging population with heart valve sclerosis, patients with prosthetic valves, those exposed to nosocomial infections, hemodialysis patients, and intravenous drug abusers [
3
], while chronic rheumatic fever, which was a classic predisposing factor in the preantibiotics era, has become rare in industrialized countries. These developments reflect our experience of continuing high numbers of patients who have to be operated on for AIE each year: between May 1986 and December 2008 a total of 1313 AIE patients were operated on at the Deutsches Herzzentrum Berlin, 72.4% (n=1009) for native endocarditis and 27.6% (n=384) for prosthetic endocarditis (
Fig. 1
).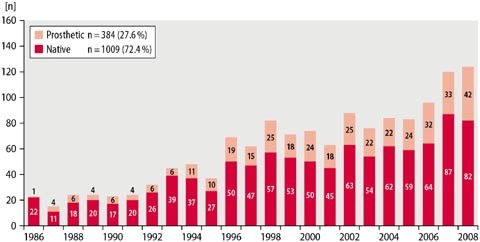 Keywords
Infective Endocarditis 
Mitral Valve Replacement 
Double Valve Replacement 
Stentless Bioprosthesis 
Native Valve Infective Endocarditis 
Copyright information
© Springer-Verlag Berlin Heidelberg 2010