Etiology of Articular Cartilage Lesions
Abstract
Isolated traumatic lesions of articular cartilage are rare. Polytraumatic injuries are frequently seen making concomitant cartilaginous lesions look far less important. Nevertheless, blunt impacts may cause chondral tears in the knee or ankle joint (
Fig. 2
). Traumatic patella luxations may also cause cartilage disruption. Anamnestic reports of stabbing pain with a total loss of muscle control in these cases commonly point towards a cartilage injury. Despite spontaneous reposition of the patella with only a mild joint effusion a cartilage lesion should be taken into diagnostic consideration. Conventional x-ray may only identify osteochondral fractures. However, isolated cartilage lesions may easily be identified by magnetic resonance imaging.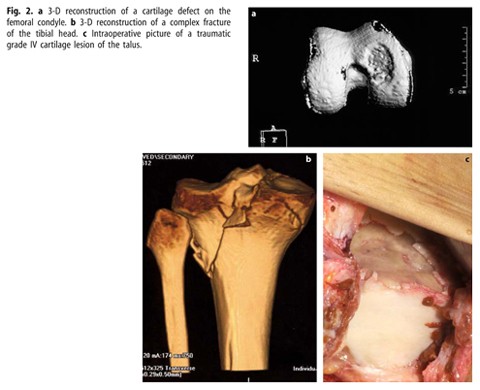 Keywords
Articular Cartilage 
High Tibial Osteotomy 
Cartilage Lesion 
Giant Cell Tumor 
Articular Cartilage Lesion 
These keywords were added by machine and not by the authors. This process is experimental and the keywords may be updated as the learning algorithm improves.