Determinants and Success of Self-Employment
Part of the ZEW Economic Studies book series (ZEW, volume 25)
Abstract
The empirical model is divided in two different stages of transition (see
Figure 4
) to address the questions: Who is entering self-employment, how successful is selfemployment and can the grant of bridging allowance affect the success of the chosen employment opportunity. In a first stage, unemployment duration is investigated to obtain the determinants of self-employment. As possible exit states from unemployment self-employment, paid-employment and out-of-the-labour-force are regarded. It is also possible that the individual stays unemployed during the whole observation period. In such a case the unemployment spell is rightcensored. Therefore, in the first stage of the analysis unemployment and out-oflabour force are different employment states.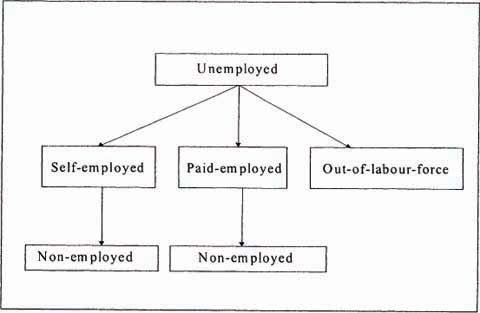 Keywords
Hazard Rate 
Mass Point 
Unobserved Heterogeneity 
Kernel Density Estimation 
Occupational Choice 
These keywords were added by machine and not by the authors. This process is experimental and the keywords may be updated as the learning algorithm improves.
Copyright information
© Springer-Verlag Berlin Heidelberg 2004